Schmuck, William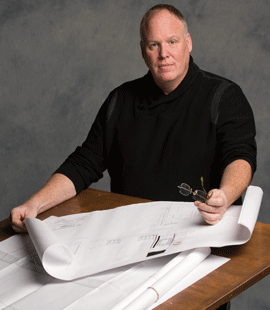 William Schmuck.
Photo source: Shaw Festival website.
Ontario-based designer, and since 1996 head of design at the Shaw Festival. Willliam Schmuck grew up in Kitchener-Waterloo, and first attended plays at the Stratford Festival.
He studied at the National Theatre School of Canada before becoming head of design at Piggery Theatre in 1981.
For the Shaw Festival he has designed Lady Windermere's Fan, Major Barbara, Hobson's Choice, Will Any Gentleman, The Secret Life, An Ideal Husband and You Never Can Tell. In 1999, he designed set and costumes for the Shaw's Easy Virtue and Rebecca. In 2001, he designed the production of The Millionairess. For the 2012 season, he was the designer for Present Laughter, French without Tears and Hedda Gabler, and in 2013, he designed sets and costumes for Enchanted April and costumes for Lady Windermereís Fan. In 2014, he was designer for The Charity That Began at Home and The Philadelphia Story.
He has also designed at Theatre Calgary, for The Pacific Opera Company (among other opera companies), Vancouver Playhouse, Tarragon Theatre, Theatre Aquarius, Globe Theatre, Persephone Theatre, Stratford Festival, Grand Theatre, London and the National Arts Centre among others.
In February, 2000, he designed Christopher Newton's Vancouver Playhouse/Grand Theatre, London co-production of She Stoops to Conquer.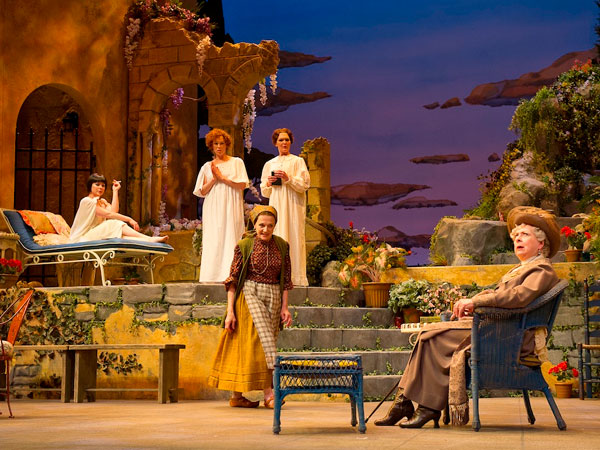 Enchanted April, Shaw Festival 2013. Photo by Emily Cooper
He considers himself a "painterly" designer: "Iím aware of painting, and I like painted texture surfaces, so in my scenery thereís always a painted texture component. Iíve been working in this business for almost 30 years, so Iíve seen a change. In my training, it was about learning to paint and draw. Those were really vital tools for the designer. Not that weíve moved totally away from them, but there has definitely been a shift." (National Post 13 July 2013).
Last updated 2014-08-29