Shakespeare in Action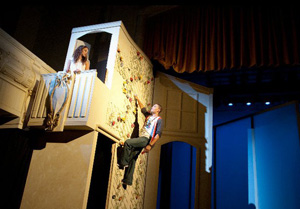 Shakespeare in Action's fall 2010 production of Romeo and Juliet, with Bahareh Yaraghi (Juliet) and Kaleb Alexander (Romeo). Photo by Joel Charlebois.
Toronto-based, multi-racial Shakespearean theatre company for young audiences. The company aspires to enhance the arts and education by bringing Shakespeare's plays to children and students across Toronto. Founded in 1988 by Artistic Director Michael Kelly, Shakespeare in Action offers a wide variety of programming for students, teachers and the community, including in-class workshops, mainstage productions, summer camp programs and more. In 2009 the company became the Artist Company in Residence at Toronto's Central Commerce Collegiate Institute. The company also partners with TD Bank and the Toronto Public Library to produce the Shakespeare for Kids Library Club, a free program where children learn to understand Shakespearean language through acting and movement.
Shakespeare in Action began by providing Shakespeare workshops in elementary and high school classrooms across Toronto. The company has offered summer camp Shakespeare programs for children since 2000 and for teens since 2009. In addition to in-class workshops led by professional actors and the camp and library programs, the company mounts mainstage productions in the Central Commerce Collegiate auditorium. Its popular staging of A Midsummer Night's Dream, first realized in 2001 and remounted yearly, was nominated for a Dora Award in 2010. The 2011 season also includes Romeo and Juliet and The Diary of Anne Frank, the company's first non-Shakespeare production. To go along with these performances the company's educational office provides free resource packs to teachers and students, and will also design residency programs for specific plays. In February 2011 the company also launched its Virtual Lab, a series of online educational videos designed for students and teachers. Using the Lab, students can karaoke with Shakespeare's characters and practice scenes from his plays.
Website: www.shakespeareinaction.org
Last updated 2011-03-01