Sharp, Eo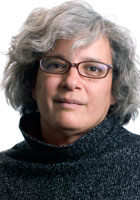 Eo Sharp
Quebec-based set and costume designer, best known for her work in small, Alternative and Experimental Theatre. Born in Toronto, she graduated with a BFA from the University of Toronto, and began her career in theatre as a house and box-office manager. She came to Montreal to study design at the National Theatre School of Canada.
Among the companies she has worked with are the Montreal troupes SIN 4 (Deus Meus, Looking for Romeo), The Other Theatre (Human Collision/Atomic Reaction which played the 1999 edition of the Festival de Théâtre des Amériques (now Festival TransAmériques), and Strange Fish.
She has also designed for Neptune Theatre (World Without Shadows, March, 1999).
More recently, she has designed sets and costumes for the National Arts Centre, including A Christmas Carol (2010); Buried Child; The Changeling, All for Love, Falstaff and The Snow Show. She has also collaborated with director and playwright Peter Hinton for The Swanne: Parts II and III (the Stratford Festival), A Doll's House (Segal Centre for Performing Arts), snowman (Imago Theatre), and well as girls! girls! girls! (Teatro Comenici/Festival Théâtre des Amériques).
She has won the Mecca Award for Best Design for Looking for Romeo (Sin 4 Productions) and Human Collision/Atomic Reaction (The Other Theatre/Festival Théâtre des Amériques).
She has taught at Bishop's and Concordia Universities.
Eo Sharp's work is marked by a keen imagination and an ability to create sets and dramatic visual statements on virtually nonexistent budgets. Her work for Deus used simple Venetian blinds to stunning effect. In Human Collision, elevated racks of clothing summed up the theme of temporality and the fading past.
Profile by Gaetan Charlebois and Anne Nothof.
Last updated 2010-11-15