Shiomi, Rick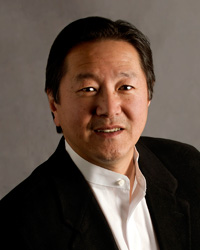 Rick Shiomi
Third generation Japanese Canadian playwright and director, born in Toronto Ontario in 1947. He graduated from the University of Toronto with a history degree in 1970, and from Simon Fraser University with a teaching licence. He then taught in Japan and Hong Kong for three years, and on returning to Vancouver, became an active member of the Japanese community. He helped to organize the Powell Street Festival, celebrating Asian Canadian culture, and was involved with the production of a film called The First 100 Years, an educational tool for Japanese Canadian children about their history.
He is co-founder and Artistic Director of Mu Performing Arts in Minneapolis since 1993, and one of the leading artists of the Asian-Canadian theatre movement.
As a playwright, his best known work is Yellow Fever (1982), a Japanese-Canadian murder mystery, set in Vancouver, which has played across North America and Japan. It was one of the first Asian Canadian plays to integrate Western popular culture and Eastern philosophy with an ironic twist, and to expose endemic racism and stereotyping. Other plays include: Play Ball, Rosie's Cafe, Mask Dance and Journey of the Drum. Many of his works deal with the trauma and aftermath of Japanese Canadian internment during the Second World War, based on the experience of his own parents. He also co-wrote the popular musical The Walleye Kid (1999), based on a Japanese folk tale, and set in Minneapolis to show the ways in which a Korean boy adjusts to his new country.
He was story editor and staff writer for the Canadian television series ENG produced for CTV.
Last updated 2010-09-01