Sinclair, Carol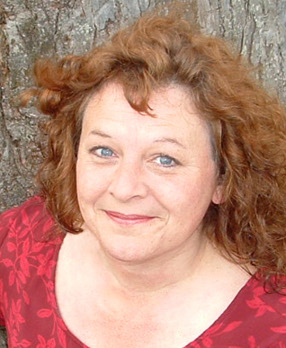 Carol Sinclair
Photo by Conrad Byers
Performer and writer, Carol Sinclair has also been an arts rep and activist in nine provinces since 1977. Born in Edmonton, Alberta in 1955 of Nova Scotian parents, she was raised in Ottawa, Ontario, and came of age in Victoria, British Columbia.
Carol studied at Carleton University in Ottawa (Arts) and Camosun College in BC (Theatre). She then worked her way across the country, and in New York City. She believes that her real education has been her 33 years in professional theatre. She has worked and lived in Toronto for the past ten years.
In 2007 she wrote a stage adaptation of Linden MacIntyre's novel, Causeway, and produced her musical, Ruby about Ruby Keeler, under her company banner, Sinc Ink. Her comedy, Share premiered at Ship's Company Theatre in summer, 2007. Her musical Ferry Tales (with David Sereda) was presented there in August 2009.
Her play, Sabina's Splendid Brain tells the story of Sabina Spielrein, a Russian Jew who came to Carl Jung as a patient, and became his lover, his muse, and his colleague, and finally a plagiarized source for both Jung and Freud. It is a featured production at "Femfest '08" in Winnipeg, September 2008, and is taught at the Universities of Toronto and Guelph.
Other professionally produced and published plays for stage include: Brownie From Hell (Crow's Theatre, Toronto); Firefly (Blyth Festival); Idyll Gossip and Presents (Mulgrave Road Theatre); Old Boots (King's Theatre, NS); The Summer of the Handley-Page (Ship's Company Theatre); and Hansel & Gretel and Handsome & Grateful (Festival Antigonish).
She has been writer-in-residence at St. Francis Xavier University in Nova Scotia. On a residency with Dalhousie University's Medical Humanities, she wrote Defense de Fumer, which toured Ottawa, Vancouver, Charlottetown, St. John, and three locations in Nunavut.
Screenplays of Idyll Gossip and The Summer of the Handley-Page have been funded by Ontario Film Development and Telefilm, and the latter was produced for national radio by the CBC, as was Brownie From Hell.
Carol has had professional productions of her plays in Toscana, Italy, Galway, Ireland, Perth, Australia, Cape Town, South Africa, London, England, Belgrade in the former Yugoslavia, and in Cincinnati, USA, as well as in every province in Canada.
Her favourite roles include Angela D in Billy The Kid at Tarragon Theatre, for which she was nominated for a Dora Award; Blanche Dubois in A Streetcar Named Desire at Atlantic Theatre Festival; Helen Creighton in Put Witch in Bottle at Eastern Front Theatre; Gretchen in Brownie; Sabina in Sabina; and Brenda Hubbard which she played for three years on the popular CBC TV series, Black Harbour.
Film credits as performer include: Poor Boy's Game with Danny Glover; Trudeau, with Colm Feore; Scotland PA with Christopher Walken, and The Killing Fields with Sam Waterston. TV series credits include Street Legal, Seeing Things, SCTV and Skylight Series on Vision TV.
Carol was a member of the Tarragon Playwright's Unit, the Banff Playwright's Colony, and is a member of ACTRA, Canadian Actor's Equity Association, Playwrights Guild of Canada, Canadian Conference of the Arts, Playwright's Atlantic Resource Centre, Theatre Nova Scotia, and the Writer's Federation of Nova Scotia. She was a founding and five year member of the Nova Scotia Arts Council.
Of the recent production of her play, Ruby, the Halifax Herald wrote: "A fun glimpse into a different era and a serious portrait of a psychologically abusive marriage. It makes you want to know more. Sinclair's lyrics with music by Paul Simons capture the flavour of the 20'-30's, and the music is very much a character."
The Halifax Herald review of Sabina's Splendid Brain was also enthusiastic: "A stunning tour-de-force. Sinclair has honed her powerfully articulate script to its essence. An absolutely brilliant piece of work."
The Ottawa Citizen said of Firefly: " The script sparkles. It is as solid as the theme is classic. The production kicks off at an entertaining pace and culminates in an enchanting conclusion."
Last updated 2009-09-04