Sound & Fury Theatre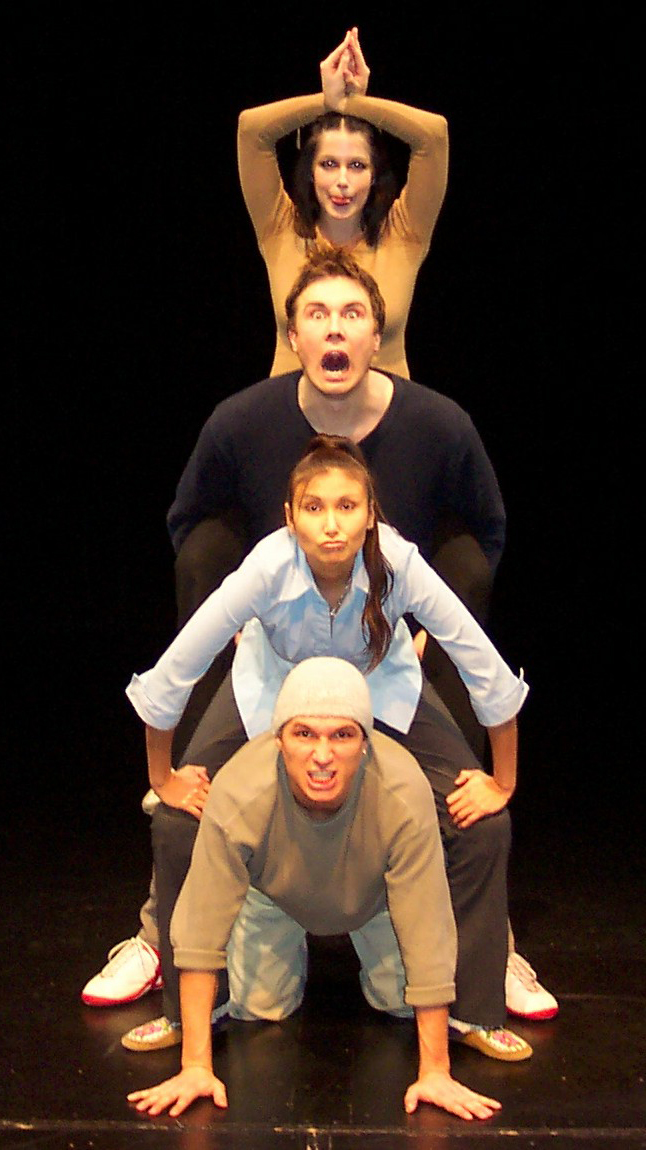 "Totem," from
One Good Story, That One
2003 (adapted from the short stories of Thomas King.
(top to bottom): Paula-Jean Prudat,
Jesse Gervais
, Tara Lenoir, and Kelly Morin.
Sound & Fury Theatre was an Edmonton-based not-for-profit theatre company devoted to producing contemporary theatrical spins on classic dramatic and literary works. Its mandate was "To challenge and excite audiences by supporting new artists in the development and transformation of works with literary and mythological resonance."
Founded in 1995 by playwright and director Scott Sharplin, S&FT's repertoire was initially limited to Shakespeare, but gradually expanded to include new works as well as new adaptations of literary works, including stories by Edgar Allan Poe, Robert Louis Stevenson, Jorge Luis Borges, Thomas King, and Fyodor Dostoevsky. S&FT began producing full seasons of theatre in 2000, and ceased to exist as an independent company in 2006, when it amalgamated with Image Theatre (Edmonton).
S&FT produced plays in nearly every major theatre venue in Edmonton. The company favoured minimalist productions with an emphasis on intimacy and immediacy; for instance, it often staged Shakespeare in the round, or in other configurations which emphasized a direct relationship between actors and audience. The company also worked with up-and-coming artists in the Edmonton community, giving early leading roles to Dion Johnstone and Tara Hughes (both of whom have gone on to work in the Stratford Festival) and Sheldon Elter (who played Romeo in Free Will Players' 2005 production of Romeo and Juliet), among others.
In 2005, Sound & Fury produced Merry Go Round, a new script commissioned by the company and co-created by nine Edmontonian playwrights: Adam Burgess, Ryan Hughes, Heather Morrow, Mieko Ouchi, David Owen, Trevor Schmidt, Scott Sharplin, Morgan Smith, and Vern Thiessen. Through its two ongoing play development programs-—the Playwrights' Blitz and the One's A Crowd Festival--the company has overseen the creation of a considerable body of original work.
Last updated 2018-02-06