Steven, Laurie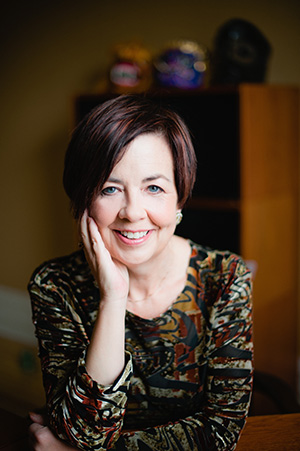 Laurie Steven
Founder and artistic director of Ottawa's Odyssey Theatre since 1985, and an award-winning director, writer, dramaturge, and theatre coach. Laurie Steven has a B.F.A. in theatre from York University, and a B.A. in philosophy from the University of Toronto.
She is well-known for her original satire, Commedia dell'Arte productions, and adaptations of international myths/folktales for adult audiences. Inspired by the theatrical richness of fairground arts and international masked theatre traditions, including those of Sri Lanka, China, India, and Indonesia, her work is characterized by a vigorous physical style and often incorporates masks, puppetry, and dance.
Steven has directed many of Odyssey Theatre's productions, including Molière's The Miser and Scapin, Jean Giraudoux's Ondine, Marivaux's False Confessions, Carlo Gozzi's The Raven, Lesage's The Financier (Turcaret), Tirso de Molina's Whether You Like It Or Not, Garcìa Lorca's The Love of Don Perlimplìn and Belisa in the Garden and her adaptation of an Indonesian shadow puppet play for masked performers entitled The Wedding. For eight years, she directed Lazzi Lazzi, a touring ensemble that performed animation and created site-specific work for a variety of arts and culture organizations in Ottawa.
Steven also has extensive experience in collaborative creation, translation, and playwriting. She wrote the scenarios, directed the collaborative development of, and revised many play-scripts, including Moonlight Mischief, The Czar's Daughter-in-Law Was a Frog, Turandot, Kamalay, and The Audition, which premiered in the Studio Theatre at the National Arts Centre. She has co-translated and adapted eight classical plays. In 2009, she completed her first sole-authored play, A Guy Named Joe, which was produced at the Gladstone Theatre. Her commissioned work, The Art Lesson, was produced at the National Gallery of Canada, and her original puppet play Saving Melisandre was produced by Odyssey Theatre in 2015. She is currently writing an original play inspired by the Russian folktale The Firebird, two handbooks (Directing Masks and Artistic Directing for Small Theatres), and co-editing a volume entitled Scenes for Scoundrels.
As a dramaturge, Steven has worked with celebrated writers, including Janet Irwin, David S. Craig, Kathy McLellan, and Lib Spry. She has directed over thirty new play workshops, including Silly Old Men Ought Not to Fall in Love for Theatre Beyond Words and Leaf (with Bharatanatyam choreographer Aparna Sindoor) for Teesri Duniya Theatre, and she has brought over a dozen original plays to successful premieres. Steven also established a unique physical theatre play-development program at Odyssey Theatre, which offers classes for writers, one-on-one dramaturgical consultations, residencies, and new play workshops. She is passionate about training artists in her field and also leads workshops for professional actors, teachers, and students as well as provides mentorship for dramaturges, directors, and artistic directors.
Profile by Marissa McHugh, University of Ottawa
Last updated 2016-03-29