Spychalski, Teo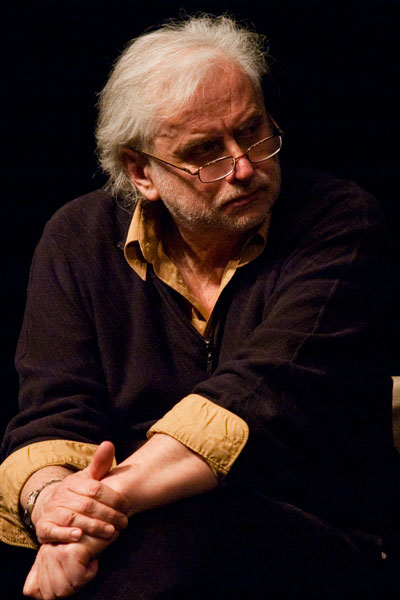 Teo Spychalski. Source: grotowski.net.
Quebec-based director and former Artistic Director of Théâtre de La Veillée (Groupe [de] La Veillée, Espace de la Veillée), born December 1944 in Poland. Teo Spychalski completed secondary school in Gdansk, and from 1962 to 1967 undertook Theatre Studies at the Department of Polish Philology at the Nicolaus Copernicus University in Torun. His Master's thesis was on Jerzy Grotowski's Laboratory Theatre; he became of member of Grotowski's Company in Wroclaw in 1967 for fourteen years, assisting Grotowski and conducting his own theatre research in paratheatrical performance projects (which blurred the distinction between actors and audience). Through contacts with Quebec theatre artists, including Gabriel Arcand, he was invited to Canada in 1977 by Montreal's Le Groupe de la Veillée and Toronto's Actors' Lab. During his stay, he travelled across the country, including a visit to Manitoulin Island to study Indigenous dance.
After returning to Poland, he again worked and travelled with Jerzy Grotowski from 1977 to 1980, assisting in research for Grotowski's Theatre of Sources in Haiti, Mexico, Venezuela, the United States, and Canada in 1981, where he has since stayed and worked.
As Artistic Director of Groupe de la Veillée s since 1982, Teo Spychalski influenced the Company's repertoire and performance style. He created and directed a wide range of works, including: Till d'Espiègle, based on Vaslav Nijinsky's diary (1982); The Idiot, based on Fyodor Dostoyevsky's novel (1983); Dans le petit manoir (1985); Un bal nommé Balzac based on Honoré de Balzac's The Skin of Sorrow (1986); Reiner Maria Rilke's The Notebooks of Malte Laurids Brigge (1988); Penthésilée (1990); La Guerre (1991), August Strindberg's Creditors (1993); Tankred Dorst's Moi, Feuerbach (1995); Demons based on Fyodor Dostoyevsky's novel (1997-1999); Per Olov Enquist's La nuit des tribades (2002); David Harrower's Blackbird (2009). He has also provided workshops for actors outside of the Company.
Spichalski's productions are marked by a profound intelligence, vivid theatricality and a deep respect for the actor's art. His understated production of Moi, Feuerbach, for instance, gave plenty of space to Gabriel Arcand's harrowing portrayal of a failing actor, while his more provocative reading of Strindberg's Créanciers/Creditors captured the humour of the piece without obscuring the text's misogyny.
Teo Spychalski also occasionally acts on stage and in film.
Source: https://grotowski.net/en/encyclopedia/spychalski-teo
Profile by Gaetan Charlebois. Updated by Anne Nothof.
Last updated 2021-11-02