Follows, Ted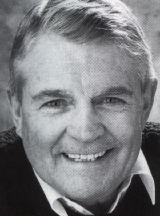 Ted Follows
Ontario-based actor, father of actor Megan Follows and three other children with his first wife, the actor, Dawn Greenhaigh. He was born in Ottawa, November 30, 1926; died in Kitchener in 2016.
Ted Follows had a long and distinguished career, performing with Hart House Theatre (with Kate Reid and William Hutt, among others), and Ottawa's Canadian Repertory Theatre. He was also a founding member of Everyman Theatre.
From 1952 to 1955, he performed in Great Britain (Glasgow Citizen's Theatre, Chesterfield Repertory Theatre, Nottingham Playhouse, Oxford Playhouse among others). On his return to Canada, he acted in Michael Langham's celebrated 1956 production of Henry V at the Stratford Festival. He appeared with the Company from 1955-59, and in 1972, 1978 and 1979.
He played in theatres across the country including Theatre New Brunswick/TNB, Atlantic Theatre Festival, Theatre and Company, Vancouver Playhouse, Neptune Theatre (he was one of the founding members of the company), Alberta Theatre Projects, Theatre Aquarius, La Poudrière, and Bastion Theatre among others.
Ted Follows directed as well, notably at TNB, and had a solid career on television and in film.
Profile by Gaetan Charlebois
Last updated 2020-11-17