Théâtre le Clou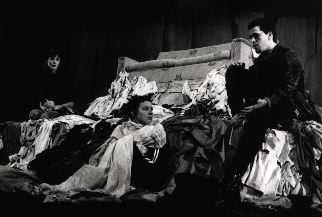 Chantal Dumoulin, Mireille Brullemans and Sylvain Scott in the 1999 Le Clou production of
Olivier Choinière
's
Les Trains
, directed by
Benôit Vermeulen
(Photo: Simon Ménard)
A young people's theatre company in Montreal Quebec, founded by Monique Gosselin, Sylvain Scott, and Benôit Vermeulen in 1989.
The founders had studied together in the theatre program of CEGEP Lionel-Groulx and joined together to form a company that would create theatre specifically aimed at adolescents with subjects that would be a more cutting edge than the theatre then touring schools.
The company's mandate is to create theatre in such a way that the theatrical event becomes a direct encounter between artists and audience. Toward this end, they have created works like Les Zurbains, a multi-part, variously authored, urban story-telling series. Their other works include: Tu peux toujours danser (by Dominique Lavigne, directed by Claude Poissant, 1990), Jusqu'aux Os! (Alain Fournier, Vermeullen, 1993; subsequently presented by the company as To The Bone!, translated by Bernard Lavoie) and Noëlle en juillet (Louise Bombardier, Vermeullen, 1996).
In Les Trains by Olivier Choinière (April, 1999) three teenagers who sit in a beat-up couch near a train-track decide to create a life for themselves, to "get on the train." The author and company used art, music, design, video and sound environment to create the work. It was presented at the Maison Théâtre. In the 1999-2000 season they toured extensively but landed, in May 2001, as part of the Nouvelle Compagnie Théâtrale / Théâtre Denise-Pelletier season with Les Zurbains 2001. In 2006, the company presented Assoiffés by Wajdi Mouawad (dir. Vermeulen) in a co-production with Théâtre d'Aujourd'hui.
In 1997, Vermeulen received the Canada Council's John Hirsch award for his work with Théâtre le Clou. He is currently a co-Artistic Director with Monique Gosselin and Silvain Scott.
Website: www.leclou.qc.ca
Profile by Gaetan Charlebois.
Last updated 2021-12-13