Théâtre les gens d'en bas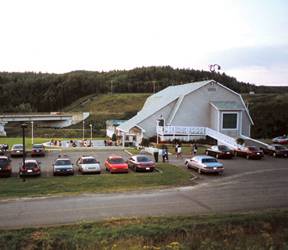 Théatre du Bic
Theatre company, founded in 1973 in Rimouski Quebec in Le Bas-Saint-Laurent region by Eudore Belzile, who has been Artistic Director for its duration. Its first works were devised through collective creation. Since 1989, it has performed plays from Quebec and the world in the intimate Théâtre du Bic (196 seats), mostly during the summer season. It collaborates with other companies in new productions, and tours in the province.
Its mission is to present demanding and diverse works from all sources that question the nature of humanity in relation to the state and to the metaphysical, works that have current relevance.
In 2001, the theatre produced the critically-acclaimed French-language premiere of Michael Healey's The Drawer Boy (as Les étoiles d'Angus), in a translation by André Therien.
Several of its more than fifty productions have received awards from Les Masques de l'Académie québécoise du théâtre (Masques Awards).
Last updated 2020-04-03