The Theatre Centre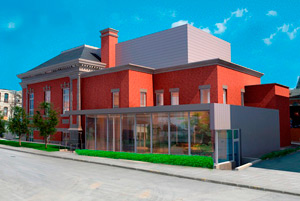 The Theatre Centre
Cultural centre for the research and development of the arts, providing space, subsidy and mentorship to aspiring artists, based in Toronto Ontario. It was formed in 1979 by a co-operative of five independent theatre companies: Buddies in Bad Times Theatre, Autumn Leaf Theatre, AKA Performance Interface, Necessary Angel and Nightwood Theatre to create, rehearse and present new work. Although the founding companies left by the mid-1980s, The Theatre Centre remained to assist other artists and groups.
The Theatre Centre's mission is "to nurture artists, invest in ideas and champion new work and new ways of working" (website). It supports artists who wish to develop Alternative and Experimental Theatre, that may include music, dance, visual art and new media.
The Centre's two-year Residency Program provides groups and individuals with space, funding and collaborative relationships to develop provocative and innovative plays. Current Residency companies/artists are: Sixth Man Collective; Philip McKee & Tanja Jacobs; and Project: Humanity. Artists who have worked with the Centre include: Jennifer Tarver, Chris Leavins, Sarah Stanley, bluemouth inc., Ame Henderson, ATSA, Cathy Gordon, Independent Aunties, Juliet Palmer, Michael Rubenfeld, One Reed Theatre, Jon McCurley & Ame Lam, Susanna Hood and Ravi Jain.
In 2002, The Theatre Centre presented its first Free Fall, a biennial festival dedicated to celebrating innovative work from across Canada and abroad.
Franco Boni has been the Artistic Director since 2003. In 2019, he relocated to the position of Artistic and Executive Director of PuSh International Performing Arts Festival in Vancouver.
The Centre has operated out of ten different rental locations since its inception in 1979. In 2014, it moved to the historic Carnegie Library at 1115 Queen Street West, following a $6.2 million redevelopment of the heritage property. The building includes new additions such as art galleries, a 200-seat performance venue, a lobby café, and affordable rehearsal spaces for emerging performers. In 2015, the Centre enjoyed is first full calendar year of presenting and producing performances at its new location.
Website: www.theatrecentre.org
Last updated 2019-02-26