Performance Art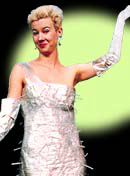 Performance Art
Manitoban Shawna Dempsey in her performance art piece Thin Skin of Normal; the dress is made of Saran Wrap as a statement on the male housewife-at-the-door fantasy, but pierced through with four-inch nails to suggest, says Dempsey, "That it is a more prickly proposition."
Performance art is a fusionist form which uses theatre art as one of its foundations, and incorporates many others. It may be critically and aesthetically controversial, and references current popular culture. In some cases, it critiques the very form it is using. According to Village Voice critic C. Carr (a specialist in the field), by its very nature performance art (or simply "performance" as it is known in French), is transgressive. Though not new (Carr says that the form has been around in one way or another since the Futurists of the 1900s), the form remains amorphous.
Montreal performance artist Dominique Stolow once said, "I see it as an art one person does ... a special dialogue [with the spectator]... with one easily absorbable theme." Many critics see the vast works of Robert Lepage and Gilles Maheu as performance art simply because they are multidisciplinary works, outside of the norm.
Elements of performance art (particularly its transgressive nature) are transferring to emerging art forms like Spoken Word and that in certain festivals of one form, you will find works from the other. Montreal artist, Nathalie Derome, has very text-driven works. Also, both genres are going out of conventional spaces to find audiences, with many works performing in bars and clubs.
It is also worth mentioning that certain well-known artists in Canada - like Jana Sterbak, creator of the notorious "Meat Dress" or Vanitas: Dress for an Albino Anorectic - have dabbled in performance art. Sterbak's follow-up to Vanitas was entitled Sisyphus II and featured a chrome and aluminium semicircular cage accompanied by a looped film showing a performer using the piece. First Nation's artist, Rebecca Belmore, also uses the form to introduce audiences across the country to her culture. Arguably, works with a heightened aesthetic quality in the performance, like Daniel MacIvor's Monster or Gloria Montero's Frida K. might fall into this category as well. The Toronto all-female collective, Urge (which has been operating since 1993) presents a fusionist art form which has been labeled performance art.
Ultimately, performance art may be the most democratic of all theatrical forms, as it can be presented with huge budgets or none at all.
Commentary by Gaetan Charlebois
Last updated 2021-07-22