Spoken Word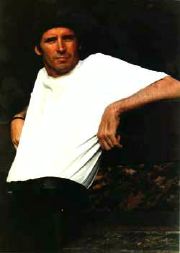 Ian Stephens
Art form that has existed since the 1950s, at least (with the Beatniks), but now has a name and a following.
It involves the performing of poetry or prose, usually by the creator of the work, sometimes in character and/or costume. The material usually directly appeals to the crowd of the bar, party, or vernissage where the piece is being performed.
Its primary quality is its currency. The pieces are often judged by the crowd for their references to the latest controversies, fads and are often heavy with local references. The form is rich with humour (irony) about the state of the generation of the performer. Part of the appeal, of course, is the form's sense of subversion: passing by publishers, editors and theatre middle-people to bring a work directly to an interested and informed audience.
However, some publishing houses are taking notice and the works of Spoken Word writers/performers are being published (notably by The Muses and Véhicule, both in Montreal). Festivals are being formed to promote Spoken Word like Voices of the Americas and Tongue Tied/Langue Liée, both in Montreal, and the Festival de Trois in Laval, Quebec. Also, radio stations like CBC One and Two and Montreal's CKUT present spoken word events.
Some Spoken Word writer/performers: Michael Springate, Doug Curtis, the late Ian Stephens, Julie Bruck, Susan Musgrave, Patrice Desbiens, Catherine Kidd and Sheri-D Wilson. Artists like Daniel MacIvor, in his monologues (like Monster), may be creating a fusion of Spoken Word and more mainstream theatre.
See also: Saskatchewan Festival of Words, Labrador Creative Arts Festival, Performance Art; Wilfred Watson.
Source: Koom Kankesan. "Out loud and proud." The Gazette, Montreal, 20 January 2001. Additional information provided by Buffy Childerhose.
Commentary by Gaetan Charlebois.
Last updated 2011-08-31