Back to Beulah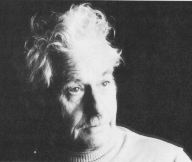 W.O. Mitchell
Comic drama in two acts by W.O. Mitchell, premiered at Theatre Calgary in January 1976, directed by Guy Sprung, with Helen Hughes as Harriet, Marrie Mumford as Agnes, Maureen Fitzgerald as Betty, and Samantha Langevin as Dr. Anders. It subsequently played across the country including at Centaur Theatre and Vancouver Playhouse. It won the Chalmers Award in 1976.
Three very different women, fresh out of Beulah, a mental institution, share a psychriatric half-way house and their problems: Betty is a conservative matron obsessed with good manners and good grammar; Agnes is a compulsive, generous and promiscuous life-force; Harriet is a priggish small-town fundamentalist. They try to keep at bay their psychiatrist, the authoritarian Dr. Anders, who is shown to be even more delusional than they are when she is tricked into believing that a doll is a stolen child, and forced to take her patients' medication. This power struggle between free spirit and moral stringency recurs in the works of the playwright. In a Calgary Herald interview (26 Dec 1975), Mitchell asserted that the play was about "compassion": "Unless you have suffered like the person you want to help has suffered then you cannot build that bridge." In his review of the Vancouver Playhouse production, Jerry Wasserman concludes that "the play is dramatically effective until its third act, where characterization gives way to caricature, satire to overstatement, and plot to message." (Oxford Companion to Canadian Theatre. Toronto: Oxford UP, 1989: 344.
A revised version of Back to Beulah is published in Dramatic W.O. Mitchell. Toronto: Macmillan, 1982.
Commentary by Gaetan Charlebois. Additional material from Diane Bessai. "A Literary Perspective on the Plays of W.O. Mitchell," Theatre in Alberta: Critical Perspectives on Canadian Theatre in English Vol 11. Ed. Anne Nothof. Toronto: Playwrights Canada Press, 2008.
Last updated 2020-03-11