Hughes, Helen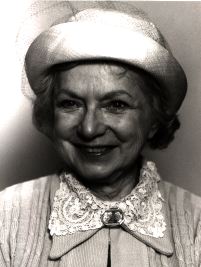 Helen Hughes
Marvellous American-born character actor who worked in many of the major houses across Canada; born in 1918, died April 2018 at the age of 100.
Helen Hughes played leads in plays that range from Michel Tremblay's St. Carmen of the Main (Tarragon Theatre) to John Murrell's Waiting for the Parade, Larry Fineberg's Eve, and W.O. Mitchell's Back To Beulah (all at Centaur Theatre where she was an audience favourite for several years). She also played in Tennessee Williams' Cat on a Hot Tin Roof (St. Lawrence Centre).
She performed several times at Theatre Plus as well as at Theatre Calgary, the Leah Posluns Theatre and Arbor Theatre.
Helen Hughes' performances were marked by focus and quick wit. She was nominated for a Dora Mavor Moore Award in 1986.
Profile by Gaetan Charlebois
Last updated 2020-03-11