Freeman, David
Playwright born in Toronto, Ontario, January 7, 1945, died November 14, 2012.
Afflicted with cerebral palsy, he spent his youth at the Sunnyview School for the Handicapped, where he was encouraged to write short stories. At age 17 he experienced the limitations of working in a shelter, which served as inspiration for his first and most popular play, Creeps.
He began writing freelance articles for Maclean's, and several Toronto newspapers. His article "The World of Can't," about the frustrations of individuals with CP trying to live on equal terms in society, lead to a CBC commission for television, but it was rejected because its content was deemed too disturbing.
In 1966 he enrolled at McMaster University, and graduated with a degree in political science in 1971. At the suggestion of Bill Glassco, then at the Toronto's Factory Theatre Lab, he recast "The World of Can't" for the stage as Creeps. Following its Factory production in 1971, it was the first play staged at Tarragon Theatre (1971), and has since been produced across Canada and abroad. It was published in Modern Canadian Drama, Ed. Richard Plant. Toronto: Penguin, 1984.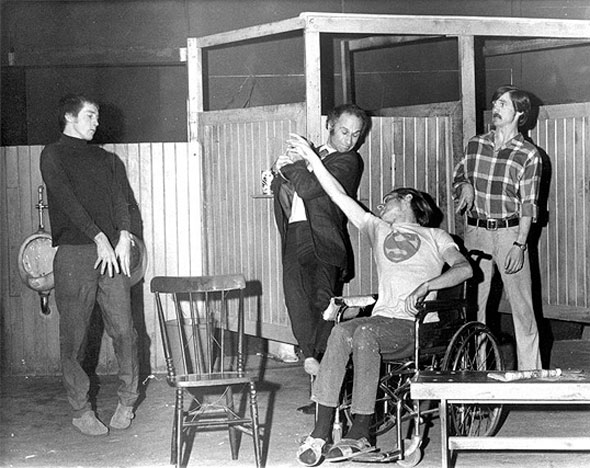 Creeps by David Freeman, Tarragon Theatre, October 1971, with Frank Moore, Richard M. Davidson, Steve Whistance-Smith and Victor Sutton.
Freeman's other plays include: Battering Ram (Factory Theatre Lab 1972), in which a professional volunteer offers a young man suffering from CP a room in her home, and then, with her daughter, engages in a form of dysfunctional sexual exploitation; You're Going to Be Alright, Jamie Boy (Tarragon 1974), in which a young man returns to an abusive home after undergoing treatment in a psychiatric hospital, and attempts to cope with his family's addiction to television and alcohol; and Flytrap (Saidye Bronfman Centre, 1976, dir. Robert Robinson), which again explores a deviant triangular relationship between a young man and married couple, very much like the scenario in Entertaining Mr. Sloane by British playwright Joe Orton. He also wrote Year of the Soul for CBC radio in 1982.
Further readings: Geraldine Anthony, ed. Stage Voices: Twelve Canadian Playwrights Talk About their Lives and Work. Toronto: Doubleday, 1978.
Last updated 2021-01-21