Mirbt, Felix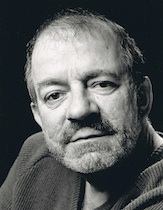 Felix Mirbt
Director/puppeteer born in Breslau, Germany in 1931, died July 15, 2002 in Sutton, Quebec.
In 1973, Felix Mirbt collaborated with Henry Beissel on the Stratford Festival production of Inook and the Sun. He is best known for his collaborations with director Jean Herbiet and their adaptations of the theatrical classics with large puppets: Büchner's Woyzeck (1974) and Strindberg's A Dream Play (1977), which opened at the National Arts Centre and toured nationally. The presentation of both involved visible "readers" who spoke the voices for the characters while clearly visible puppeteers ("manipulators") moved puppets representing the characters. The effect was haunting and added a layer of meaning to the works, suggesting the inevitability of destiny - of control being in the hands of others.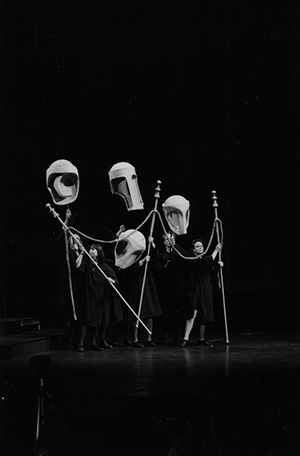 Production photo of L'Enfance du Christ.
Mirbt also experimented with a collaborative relationship of puppets and classical music: in 1980 he and Carolyn Davis created puppets for a theatrical performance of L'Enfance du Christ by Hector Berlioz at the Guelph Music Festival; in 1988, he interpreted L'Histoire du soldat (The Soldier's Tale) of Igor Stravinsky.
Information by Barbara Mirbt.
Last updated 2021-05-27