Kirkham, Gary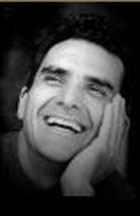 Gary Kirkham
Playwright, filmmaker, and actor, born in Britain, and based in Cambridge Ontario. Gary Kirkham was one of the original members of Motus O Dance Theatre. For several years he improvised sketches with several comedy troupes including Mental Floss, Second City, and Master Class. He has played Branislav in Yes or No (MT Space); Gordon in Some Assembly Required by Eugene Stickland; Edmund in The Lion the Witch and the Orchestra (Lost & Found Theatre); John in A Life in the Theatre (Theatre & Company); Mr. Johnston in Headache Grey; and Phil in T Intersection (Record NewWorks Festival).
Kirkham's plays have been produced in fifty theatres across Canada and abroad. They often focus on the lives of imaginative older women, with a recurring theme of loss, mitigated by laughter. His first full-length play, Queen Milli of Galt, was the winner of the 2005 Samuel French Playwriting Competition, and has had several productions across Canada, including the Blyth Festival, the Chemainus Theatre Festival, and Rosebud Theatre. It depicts the hypothetical relationship between a feisty small town teacher, who has lost her sweetheart in WWI, and Edward, Prince of Wales, while he was touring Canada in 1919. As recalled by Milli in her 80s, they had secretly married, and she has her tombstone engraved to commemorate the occasion.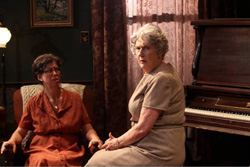 Pearl Gidley with Catherine Fitch and Patricia Hamilton. Photo by Terry Manzo.
Kirkham's second play, Falling: A Wake, premiered at Lost & Found Theatre in 2007, and was subsequently performed by the new co-op Stratford company, Alternative Theatre Works (dir. Brad Rudy, with veteran Stratford Festival actors Robert King and Peggy Coffey. Its US première was at Stageworks/Hudson in 2008. It was inspired by the true-life story of Dundas actor Paul Freeman, a friend of Kirkham's, who was killed in the bombing of a Pan Am Jumbo Jet over Lockerbie, Scotland in December 1988.
Pearl Gidley (Blyth Festival 2010, dir. Miles Potter) features two older sisters in a boarding house, whose stories are brought to life by the arrival of a veteran from the Vietnam War. It featured Patricia Hamilton, Gil Garratt, and Sam Malkin, with Catherine Fitch as Pearl. The critical and audience response was overwhelmingly positive.
Gary Kirkham is a member of Lost & Found Theatre and MT Space, where he works with the ensemble to develop new works. He was playwright in residence at the Blyth Festival in 2008.
Website: https:://gazzkirkham.wixsite.com
Profile by Anne Nothof, Athabasca University
Last updated 2021-07-20