Pichette, Jean-François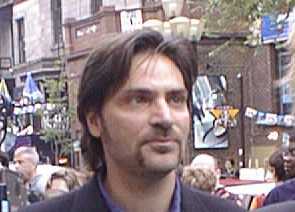 Jean-François Pichette
Quebec-based actor born in 1962.
Though he is best known for his film work (notably the film adaptation of René-Daniel Dubois's Being at Home With Claude), Jean-François Pichette has performed in several important theatre productions. Among them are: Robert Lepage's Écho, the premiere of Daniel Danis's Celle-là, the premiere of Claude Poissant's Si tu meurs, je te tue, and René Richard Cyr's production of Gorki's Les Bas-Fonds/The Lower Depths (at Théâtre du Nouveau Monde). He has also performed in important Théâtre du Rideau Vert productions (the premiere of Simon Fortin's La Promenade des veuves, 1995, Roland Lepage's Le temps d'une vie, 1997, opposite Sylvie Drapeau).
In April 1999, he performed in Espace Go's production of Le Roi se meurt/Exit the King (directed by Dubois); and in January 2001, the premiere of Danis' Le Langue-à-langue des chiens de roche (Théâtre d'Aujourd'hui).
Jean-François Pichette's performances are marked by his magnificently expressive face and a willingness to present extreme vulnerability.
Profile by Gaetan Charlebois
Last updated 2021-07-23