Dyba, Kenneth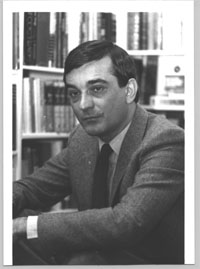 Playwright, novelist, poet, Kenneth Dyba was born in Nordegg, Alberta in 1945, grew up in Calgary, and graduated from the University of British Columbia with a B.A. in English and Theatre. He worked at the Bristol Old Vic Theatre, and moved to Toronto in the 1980s, where he currently resides. He has been active in many areas of Canadian theatre as a dramaturg, script and programme developer, and director. He was Artistic Director for MAC 14 and Pleiades Theatre in Calgary, and has conducted speech and playwriting workshops for the Universities of Calgary and Victoria, and the Banff Centre.
His best-known play, Lilly, Alta, based on the ghost coalmining town of Nordegg, was first produced in 1986 by the Blyth Festival. A music drama with a large cast, it tells the story of two lovers attempting to free themselves from the ruling matriarch of Lilly, unleashing a chain of events which forever alters the community. It has also been produced at the University of Lethbridge, directed by Ches Skinner (2001), and the University of Regina, directed by Janet Amos (2005). The Sun Runner premiered in 1983 at the Toronto Free Theatre. A mother dying of cancer comes to terms with her family, her past, and her death. Dyba is currently working on a play drawn from his 1986 biography of Calgary director, Betty Mitchell
Kenneth Dyba's novels include: Sister Roxy (1973), Lucifer and Lucinda (1977), and The Long and Glorious Weekend of Raymond and Bingo Oblongh (1983), all published by the now defunct November House, Vancouver.
In 2002, he initiated the Snail Project (So Now An Instant Later) to create a complete listing of Canadian scripts worthy of revival, and a revival house for Canadian plays – to keep Canadian theatre classics in the public eye, and to assist in the definition of a Canadian national theatre. (e-mail: the snailproject@hotmail.com)
His awards include the Ford of Canada Achievement Award (1978), and the Alberta Achievement Award (1972, 1974).
His papers are archived in the University of Calgary Special Collections: www.ucalgary.ca/library/SpecColl/dyba.htm
Last updated 2013-01-22