Amos, Janet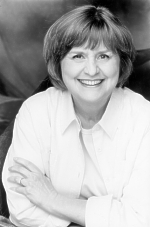 Janet Amos
Janet Amos has contributed abundantly to the life and vitality of playmaking in Canada. Her career as actor, director and educator has been an integral part of the development of Canadian theatre, from the alternative and experimental theatre scene in Ontario in the 1970s, the regional theatre scene in New Brunswick, the drama education scene at the National Theatre School of Canada in Montreal, and the community theatre scene at the Blyth Festival. She has worked across Canada, helping to establish a network of play development and production.
Born in 1945, she began acting at the age of eight with Dora Mavor Moore in the New Play Society in Toronto. She studied with Marjorie Purvey at the Toronto School of Radio Drama in the fifties, and graduated from the University of Toronto with a B.A degree in 1967. In 1991, she completed a B.Ed degree.
During the 1960s Janet Amos played at the Red Barn Theatre on Lake Simcoe, along with Martha Henryand Timothy Findley. Her first professional acting engagement was with Theatre Toronto in 1968. From 1972 to 1976 she appeared in Theatre Passe Muraille's productions of The Farm Show, 1837, The Farmer's Revolt, and Them Donnellys. She also directed, stage-managed, and ran the lights for Operation Finger Pinky, a collaborative play about the problems and struggles of clerical and secretarial workers in the hierarchy of academia, focusing on the move toward unionization of the staff association at York University.
In 1979 she became Associate Director with James Roy of the Blyth Festival, and remained as AD until 1984, returning in 1994 to 1997 to reinstate the Festival's artistic and financial health. As Artistic Director of the Festival, she focused on commissioning and developing new Canadian plays relevant to the rural life and traditions of the community -- by Ted Johns and Anne Chislett, for example. As an actor at Blyth, She is probably best known for her role as Mrs. Aylmer Clarke in He Won't Come in from the Barn by Ted Johns.
From 1984 to 1988 Janet was Artistic Director of Theatre New Brunswick, where she again promoted Canadian plays, included Doc (renamed Family Trappings) by Sharon Pollock. She also initiated a second stage series to accommodate local playwrights, called Contact Theatre. Jamie Portman pointed out in 1984 that she was "the first woman to be entrusted with the artistic leadership of a major regional company." In an interview published in Candian Theatre Review in 1985, Amos explains that she is primarily interested in the people of Canada in her work – who they are and how they are different from each other. She is interested in shows that connect with an audience.
Amos has acted at the Shaw Festival (Major Barbara 1978), at the Tarragon Theatre and Canadian Stagein Toronto, and at TNB as Maureen in Chislett's The Tomorrow Box, and as Marilla in Anne, bringing "great restraint and discipline" to the role, according to one local critic. In 2009, she returned to Blyth to perform in Ted Johns' The Bootblack Orator.
Her directing credits include a wide spectrum of Canadian plays: Hunger Striking by Kit Brennan at Theatre Passe Muraille backspace in 1998, The Buz'Gem Blues by Drew Hayden Taylor at the Lighthouse Theatre, Port Dover in 2001, Gone the Burning Sun by Ken Mitchell for the Globe Theatre, Regina. She has also directed at the Grand Theatre in London, the Citadel Theatre and Stage West in Edmonton, Young People's Theatre, the National Arts Centre, the National Theatre School of Canada, and George Brown College.
Her contribution to Canadian theatre history came full circle with her appearance in The Clinton Project, a film which documents the creation of The Farm Show in a small community in Western Ontario, not far from the town of Blyth.
Janet is also a playwright. Her third play, Small Virtues, is about the mysterious disappearance of millionaire theatre owner, Ambrose Small, in 1919.
She was Assistant Professor at the University of Regina from 2003 to 2006 and Guest Artist at the University of Ottawa in 2008.
In 1994 Amos was presented with a Blyth Citizen of the Year Award, and 1998 she received an honorary degree from the University of Western Ontario. In recognition of her significant contributions to Canadian theatre, the Association for Canadian Theatre Research awarded her an honorary membership in 2005.
She is married to playwright Ted Johns.
Profile by Anne Nothof
Last updated 2014-09-01