Renders, Kim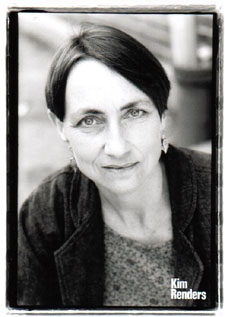 Kim Renders
Kim Renders worked as a writer, director, designer and actor in theatres across Canada for more than thirty years. She was a founding member of Canada's oldest professional feminist theatre company, Nightwood Theatre and was part of the original brat pack that formed The Theatre Centre in Toronto.
She was born January 14, 1955; died July 17, 2018. She graduated from the University of Ottawa in 1977 with a B.A. in Drama; and taught theatre courses at the University of Guelph, and the University of Waterloo. In 2006 she joined the faculty in the Drama Department at Queen's University.
Some of her acting credits include: Goodnight Desdemona (Good Morning Juliet) at the Belfry Theatre in Victoria and at the Manitoba Theatre Centre in Winnipeg, Divided We Stand at the Canadian Stage Company, Desire for Necessary Angel, List of Lights at L.S.P.U. Hall in St. John's, Newfoundland, Flowers at the Grand Theatre, London, and Building Jerusalem with Volcano Theatre in Toronto (Dora Mavor Moore Awards nomination).
She performed her one-woman show, Motherhood, Madness and the Shape of the Universe at festivals and conferences across Canada and in Britain; and performed an adapted version for CBC Radio.
In April 2009, her one-woman show about aging and mortality, Waiting for Michelangelo, opened at the Baby Grand Studio in the Grand Theatre Kingston.
Her directing credits include stints with Theatre Direct, Factory Theatre, Tarragon Theatre and Nightwood Theatre in Toronto, the Universities of Guelph and Waterloo and at the Grand Theatre in London, Ontario. She was Co-Artistic Director for the Centre Wellington Children's Theatre based in Fergus and for her own environmental performance company – Theatre Out&About.
Kim Renders was a member of Canadian Actor's Equity Association, ACTRA, Playwrights Guild of Canada, Theatre Ontario, and the Theatre Ontario Talent Bank. In 1995 she was awarded an Honorary Membership by the Association for Canadian Theatre Research in recognition of distinguished service to theatre in Canada.
Profile by Anne Nothof, Athabasca University
Last updated 2018-07-17