Arden, Leslie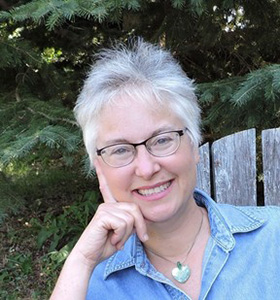 Leslie Arden
Ontario-based composer, lyricist, performer, and director, born in 1957 in Beverly Hills, California to Canadian singer and actress Cleone Duncan and her American performer husband, Paul Howard Jenkins. She moved with her parents to Toronto when she was 6.
Among the works she has scored are Harvest Moon Rising (book by Peggy Sample), The Prince and the Pauper, (Dora Mavor Moore Award), and The Happy Prince Chalmers Award.
She has written over a dozen musicals, including the critically acclaimed and multi-award-winning The House of Martin Guerre (Theatre Plus 1993). The work was subsequently produced by the Goodman Theatre in Chicago where it won several awards. In 1997, it received an acclaimed production at Canadian Stage.
She provided the score for a musical adaptation of Shakespeare's Much Ado About Nothing (American Musical Theatre Project, Chicago, 2006), and for Canadian Stage's productions of The Beard of Avon and It's a Wonderful Life (in which she performed). More recently, she scored the Stratford Festival's 2009 production of Cyrano de Bergerac. In 2013, she composed the music for the Stratford Festival production of The Three Muskateers.
Her family musical, The Princess and the Handmaiden, premiered at Toronto's Young People's Theatre in 2009.
She collaborated with Norm Foster on the popular works, The Last Resort and Ned Durango (Theatre Orangeville 2011). Her choral piece for soprano and choir, inspired by the diary of Elizabeth Simcoe and entitled Feathers On The Page, premiered in May of 2012.
She was also founder and Artistic Director of the touring young people's company, "The Children's Trio," for which she has written and directed a number of musicals which have subsequently been produced around the world on stage and radio.
In 1990 she was one of thirteen writers chosen to participate in a Master Class at Oxford University, organized by British musical producer Cameron Macintosh and taught by world-renowned composer/lyricist Stephen Sondheim.
In December, 1999, a revue on her work, A Meeting Of Minds: Leslie Arden And Friends, was presented at Canadian Stage.
She is a faculty member of the Dan School of Music and Drama at Queen's University.
Website: www.lesliearden.com
Last updated 2020-02-21