Frankish, Leslie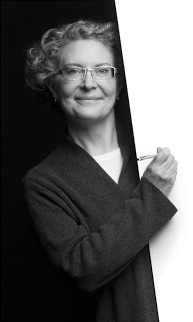 Leslie Frankish. Website photo
Ontario-based set and costume designer, a native of Edmonton, Alberta, who has designed over 130 productions for major theatres across Canada.
Leslie Frankish has a background in landscape architecture, and an interest in literature and history. Her sets are structurally complex, imaginative, and tonally arresting.
In 1980, Frankish attended the Banff Centre for the Arts to study theatre design. Since then, she has worked with director Bob Baker on many productions, including B-Movie: The Play at Phoenix Theatre. She began her career at the Citadel Theatre in the 1980s as a resident designer for the Citadel Youth Theatre. For the Citadel, she subsequently designed Little Shop of Horrors (March, 2000), Cat on a Hot Tin Roof, Measure for Measure, A Christmas Carol, Private Lives (2011), Long Day's Journey into Night (2013), Who's Afraid of Virginia Woolf? (January 2016), Other Desert Cities (April 2016), and Sense and Sensibility (2017).
Of her set for A Christmas Carol for a production that ran at the Citadel every December from 2007 to 2018, Liz Nicholls wrote: "It looks like a vintage Victorian card. And it opens up like a magic Christmas box and then a snow globe, to reveal the world, indoors and out-, of an ossified misanthrope whose soul is reconstituted on Christmas Eve in a last-ditch intervention from the spirit world." (12thNight.ca. Dec 5, 2018)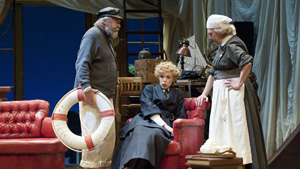 Michael Ball
as Captain Shotover, Robin Evan Willis as Ellie Dunn and
Patricia Hamilton
as Nurse Guinness in
Heartbreak House
, Shaw Festival 2011. Photo by David Cooper.
During her long association with the Shaw Festival (1988-2015), she designed Pygmalion, The Silver King, Good News, The Simpleton of the Unexpected Isles, The Lady's Not For Burning, The Children's Hour, Mrs. Warren's Profession, Sherlock Holmes, Lulu, and All My Sons (1999). More recently, she designed an extraordinary set configured as a listing ship for Heartbreak House (2011). In 2015, she designed set and costumes for You Never Can Tell at Shaw.
She has also designed for National Arts Centre (Hard Times, Lilies, Claptrap); Canadian Stage (Angels in America I & II, Singer, Into the Woods, and Jason Sherman's Patience); Theatre Calgary (La Bete); Vancouver Playhouse (A Little Night Music, The Caretaker, Hosanna); Stratford Festival (The Homecoming).
Leslie Frankish was the senior production designer of the opening and closing ceremonies for the 2010 Winter Olympics in Vancouver.
She has been nominated thirty-five times for outstanding theatre design, and has received a Dora Mavor Moore Award for costume design (Into the Woods), Jessie Richardson Award, and Elizabeth Sterling Haynes Award/Sterling Award (Beauty and the Beast, Citadel Theatre).
She has said of the working process, "I think the strength of a set is to not only create a physical environment, but an emotional environment. That's the part I love, to be able to say something with solid matter."
Website: www.lesliefrankish.com
Profile by Gaetan Charlebois. Additional information provided by Alvina Ruprecht and Anne Nothof.
Last updated 2020-12-08