Burns, Martha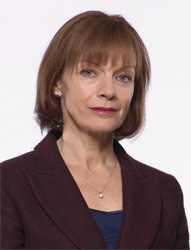 Martha Burns
Actor for stage, television, and film, born 1958 in Chicago, and raised in Winnipeg Manitoba. She has a degree in English from the University of Alberta, and studied acting at the Vancouver Playhouse school in 1979. She is currently based in Toronto Ontario.
Martha Burns is a committed arts educator. She is the founder of Way to Go, an organization that connects young people to the arts in Toronto. As an associate artistic director at Soulpepper Theatre Company, she headed up an extensive youth outreach program. Earlier in her career, she founded the Toronto Arts for Youth Association and was a co-founder of another youth theatre project in Toronto, Masterclass Theatre. She has worked as an instructor for the theatre programs at George Brown College, Ryerson University, and the National Theatre School of Canada. She is also one of the founders of GOT YOUR BACK, artists working together for positive change. In 2005 she was honoured for her career in the theatre with the Barbara Hamilton Award.
She has played many leading roles in theatre, including two for which she won the Dora Mavor Moore Award for Best Actress: in 1984 as Tanzi in Trafford Tanzi (a National Arts Centre production) and in 1986 for Annie Sullivan in The Miracle Worker (Young People's Theatre). She has also performed at Citadel Theatre, Tarragon, at the Shaw Festival and Vancouver Playhouse.
At the Stratford Festival she has played in King Lear (Regan), Sweet Bird of Youth (Heavenly), Long Day's Journey into Night (Cathleen; she also recreated the performance for the film version of the production), Cyrano de Bergerac (Roxanne), Cymbeline (Imogen) and The Winter's Tale (Perdita), among others.
She appeared in The Memory of Water at the Elgin and Winter Garden Theatre Centre, February, 2000 and in Soulpepper's productions of Present Laughter and La Ronde (both in 2001).
After a four-year absence from the stage, she returned to play in And So It Goes by George F. Walker (Factory Theatre 2010), and A Boy Called Newfoundland (Tarragon Extra Space, 2010). In November 2015, she co-starred with her husband, Paul Gross in Domesticated by Bruce Norris, as the wife of an unfaithful American president (The Company Theatre/Canadian Stage. In April 2019, she played a determined but embattled political candidate in the dual premieres of The Party and The Candidate by Kat Sandler at the Citadel Theatre; followed by an interpretation of the devil in Man and Superman at the Shaw Festival.
For Burns, "acting is about two important things ... and those things are chemistry and commitment. You have to want to work with a certain group of people and you all have to have a real passion for what you're doing." (quoted from Richard Ouzounian. "Martha Burns Returns to her Roots." www.thestar.com. 2 March 2010)
On television, she has acted in the satiric series Slings and Arrows and in Due South, with Paul Gross, whom she met when she played a First Nations girl in Sharon Pollock's Walsh at the Stratford Festival in 1983. They have a son and a daughter, Hannah Gross, who is also an actor.
Profile by Gaetan Charlebois and Anne Nothof. Information provided by Lindy Cooksey; additional information provided by Joel Greenberg, Christopher Hoile and Pierre Karch.
Last updated 2020-02-28