Guérin, Maude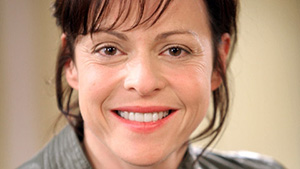 Maude Guérin
Stunningly versatile Quebec-based actor born in La Tuque in 1965. Maude Guérin studied theatre at the CEGEP de Saint-Hyacinthe.
She has played leads with virtually all of the major companies in the province including Compagnie Jean-Duceppe (Chekhov's Les Trois soeurs/Three Sisters and Ivanov, and Arthur Miller's Après la chute/After the Fall), Théâtre du Rideau Vert (Feydeau's Le Dindon, Jonson's La foire de Saint-Barthélémy/Bartholomew Fair, Antonine Maillet's La Fontaine ou la Comédie des animaux) and with Théâtre Petit à Petit (Kobo Abe's Les Amis). She has also performed in the 1999 production of Wajdi Mouawad's Les Mains d'Edwidge au moment de la naissance (Théâtre d'Aujourd'hui), the Rideau Vert revival of Michel Tremblay's Le vrai monde?, the Aujourd'hui premiere of René Gingras's Jacynthe de Laval (January, 2000) and played Maggie in Duceppe's production of La chatte sur un toit brûlant/Cat on a Hot Tin Roof in April, 2000. In summer, 2000, she appeared in the Just For Laughs production of Ben Elton's Pop-Corn.
In 1998 she was nominated for a Masque Award for her performance in the premiere of Serge Boucher's Motel Hélène, a portrayal of such vibrancy, detail and emotion that it will long be remembered by those who saw it. In 1999, she won the Masque for best supporting female actor for Le Libertin.
More recently, she reprised the role of Pierrette in Les Belles-soeurs at the Monument National (2013). She loves Michel Tremblay's works, because of their strong portraits of women.
Maude Guérin has also had a successful career in television.
She told Voir (Montreal) in 1999, "I don't get emotional easily. For instance, it's rare that I'll cry in front of friends or colleagues. I'm more reserved in life than in theatre. I sometimes have the impression that I live more on stage than in life...scary, isn't it?"
Profile by Gaetan Charlebois
Last updated 2016-06-05