Roe, Meg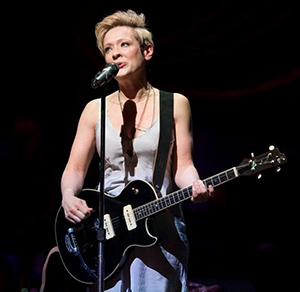 Meg Roe in Onegin, Arts Club Theatre.
David Cooper photo.
Actor, director, sound designer, Meg Roe was born and raised in Balzac, Alberta, and went to school in Airdrie. Her first stage role was the youngest von Trapp child, Gretl, in a production of The Sound of Music at the Jubilee Auditorium in Calgary.
She appeared on the Max Bell stage as an 11-year-old newsboy in Theatre Calgary's production of the musical Gypsy. A decade later, she played the title character in Theatre Calgary's The Diary of Anne Frank.
Roe studied at the University of Victoria, and worked with Theatre SKAM, before returning to Calgary, where she was a company member at Theatre Junction, starring in Much Ado About Nothing, Arcadia, It's All True, Closer, and A Month in the Country. She then worked in theatres across Canada. Notable roles include Penelope in The Penelopiad (Arts Club Theatre 2011, dir. Vanessa Porteous); Mary's Wedding (Alberta Theatre Projects 2012, dir. Mark Bellamy); and the title role in Saint Joan (Arts Club Theatre 2014, dir. Kim Collier), which was critically acclaimed by Marsha Lederman in The Globe and Mail: "Constrained physically, Roe soars in her performance in the trial scene, evoking anger, terror and righteousness" (3 Nov 2014).
In 2003, Roe relocated to Vancouver after meeting Alessandro Juliani, when they played Romeo and Juliet in a Vancouver Playhouse production. Since then, they have often worked together in the theatre: In the Arts Club Theatre's stunning production of Onegin (2016), Roe played Tatyana Larin to Juliani's Onegin. She was awarded a Jessie Richardson Award for best actress in 2016; and Juliani was named best actor in a lead role.
Roe has also acted on television.
Her first directing work was for the 2008 Bard on the Beach production of The Tempest (with music by Juliani). In 2018, she directed a radically "feminized" production of Timon of Athens for Bard on the Beach, with Timon as an autocratic woman. For the Shaw Festival, she has directed three times, including an acclaimed production of Middletown (2017).
With Juliani, she has worked extensively in sound design for theatre, notably for a number of international productions, such as The Tempest Replica (2010) and Betroffenheit (2015) by Kidd-Pivot dance company under Canadian choreographer Crystal Pite.
Her many awards include: Betty Mitchell Awards for Actress in A Lead Role in Proof and The Syringa Tree; Jessie Richardson Awards for Actress in a Lead Role in The Penelopiad (2012), All The Way Home (2012), and Onegin (2017); Jessie for Supporting Actress in Who's Afraid of Virginia Woolf? (2010); Ray Michal Award for Outstanding Work or Body of Work by an Emerging Director (2010); a Jessie for Sound Design for Betroffenheit (2007); and a Toronto Theatre Critics' Award: Best Design (2016).
Meg Roe and Alessandro Juliani have twin daughter and son, born in 2013, and a second daughter, born in 2015.
Source: Louis B. Hobson. Calgary Herald 11 January 2018.
Profile by Anne Nothof, Athabasca University
Last updated 2019-06-05