Monteith, Michelle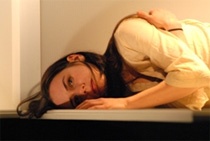 Michelle Monteith in Crave, Nightwood Theatre. Photo by Guntar Kravis.
Actor, born in Paisley, Scotland and raised in Vancouver British Columbia. Michelle Monteith's first role was that of Anne Frank in Children of the Holocaust at her high school for Remembrance Day. She moved to Montreal after being hired by Bill Glassco to join his new Young Company. She was then invited to Toronto to work with director Chris Abraham, most notably in the role of Laura in The Glass Menagerie (Canadian Stage 2005) for which she won the Montreal Critics Circle Award for Best Actress.
She attracted critical attention for her role in Hannah Moscovitch's monologue, The Russian Play SummerWorks 2006 and Factory Theatre), for which she received a Dora Mavor Moore Award nomination for Best Actress. She also played in Moscovitch's one-act play, Little One (Theatre Crisis at Tarragon Extra Space, 2013). In Toronto theatres, she has played in a wide range of works, from challenging roles in Sarah Kane's controversial plays Crave (Nightwood Theatre 2006) and Blasted (Buddies in Bad Times, 2010) to classical Canadian works such as John Murrell's Waiting for the Parade (2010) , and American plays such as The Odd Couple and Angels in America (2013) with Soulpepper Theatre Company. For Theatrefront, she has played in Ubuntu and The Mill. At the Tarragon Theatre, she appeared in Michael Healey's Generous (2006), and Joan MacLeod's The Valley (2013). For Modern Times, she played with David Ferry in Ionesco's The Lesson (2012). In his review on The Globe and Mail (16 Nov 2012), J. Kelly Nestruck exclaims: "Monteith seems less to be performing than to be possessed. Her Pupil is the very picture of a sweet schoolgirl until the Professor slices through her strings and she transforms into a suffering, shattered marionette. I can't describe her chilling looks: She's supernatural or something."
Monteith has starred in numerous plays across the country including the title role in Anne Frank at the Neptune Theatre in Halifax (Merritt Award nomination, Best Actress), and Ophelia in Hamlet at the National Arts Centre (2003). She participated in the 2008 season at the Stratford Festival in Caesar and Cleopatra, Romeo and Juliet, and Love's Labour's Lost.
She was a co-creator on the award winning and critically acclaimed show Revisited (2006) with 2B Theatre Company, an adaptation of Thornton Wilder's Our Town, which toured across the country and to Germany.
Michelle Monteith has also appeared in film and television, including Haven and Murdoch Mysteries.
She has been named number one theatre artist by Now Magazine and has been honored in The Globe and Mail as "one of the best actors of her generation." She is married to actor Stuart Hughes.
Last updated 2021-06-07