Negin, Louis
Louis Negin
Actor/director, born in October, 1929, and based in Toronto Ontario and Montreal Quebec.
Louis Negin's acting career spans more than sixty years, including seven seasons at the Stratford Festival, where he appeared in Tamburlaine the Great in 1956, which then toured to Broadway.
With a Canada Council grant he took his work, Love and Maple Syrup to England and then worked there until 1976 including in the British production of John Herbert's Fortune and Men's Eyes. (He was one of the first actors to appear nude on a British stage). He returned to Canada to teach and direct.
He has appeared in M. Butterfly, The Mystery of Irma Vep, and Molly Wood and worked at the Manitoba Theatre Centre and at Centaur Theatre. In 1996 he received rave reviews for his solo turn in the Truman Capote monologue, Tru. In 1998, he appeared as Noel Coward in the well-received Linda Griffiths play, The Duchess, at Theatre Passe Muraille.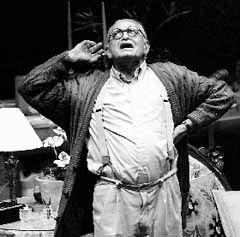 Louis Negin, as writer Truman Capote, in the 1996 production of Tru, directed by Robert Morse.
In 2000, he appeared in John Palmer's Singapore at Factory Theatre.
His semi-autobiographical play, The Glass Eye was written in collaboration with Marie Brassard, and premiered at the Luminato Festival, Toronto (Harbourfront) in 2008. Negin describes it as a "collage of memories, dreams, fantasies, and truth," expressing his dreams of celebrity, and his disillusionment.
Negin has appeared in many films during his career, including the narrator in Guy Maddin's Brand Upon the Brain (2006), and in My Winnipeg (2008), written and directed by Guy Madden.
Profile by Gaetan Charlebois and Anne Nothof
Last updated 2021-07-04