Billon, Nicolas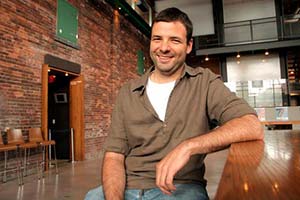 Nicolas Billon
Acclaimed playwright, whose trenchant and witty work typically examines the dynamics of current political, social, and economic scenarios through monologist intersections. Nicolas Billon was born March 22, 1978 in Ottawa, and grew up in Montreal. In his teens, he wrote short stories and poems, and acted in school plays, as well as pursuing an interest in computing that resulted in the co-development of a Shareware Program in 1996 used in a number of universities around the world.
He studied creative writing at Concordia University in Montreal between 1997 and 2000, worked in multi-media, and co-founded a community theatre company. He was the first playwright admitted to the Birmingham Conservatory at the Stratford Festival.
His first play, The Elephant Song, began as an exercise for a university class. The revised one-act play was produced at the Stratford Festival in the Studio Theatre in 2004. In 2005, The Elephant Song premiered in French at Théâtre d'Aujourd'hui (dir. René Richard Cyr). In 2013, it opened in Paris at the Petit Montparnasse and ran for over 100 performances. It has been produced in London, Riga, Istanbul, Adelaide, Cairns, and New York. The film adaptation was produced by Richard Goudreau in 2013, with a world premiere at the 2014 Toronto International Film Festival. It was also the opening film of the Atlantic Film Festival in Halifax.
Stratford produced Billon's second play about two women friends assessing their early friendship, The Measure of Love in 2005. He returned to the Birmingham Conservatory to work with friend and mentor Bernard Hopkins on an adaptation of The Duchess of Malfi.
From June 2006 to June 2008, Billon was a member of Soulpepper Theatre Company's Academy. He adapted Chekhov's Three Sisters for the 2007 production starring Megan Follows, and co-created BLiNK with the other Soulpepper Academy members for the 2008 Luminato Festival.
Billon joined the Tarragon Theatre Playwrights Unit in 2009, and worked on a new play, Smuggling Buddha. For the Toronto Fringe Festival, he adapted Molière's The Sicilian (dir. Lee Wilson), to critical acclaim.
In August 2009, Greenland premiered at SummerWorks (dir.Ravi Jain), and won the Audience Choice Award and the SummerWorks Outstanding Production Award. Toronto's NOW Magazine voted Billon one of the top ten Theatre Artists of 2009. In February 2010, Greenland received a workshop and public reading at New York's Bridge Theatre Company. It had its New York City premiere as part of the NYC Fringe, where it won an Overall Excellence Award for Playwriting. Greenland comprises three soliloquies by three isolated characters: a glaciologist enthuses over his discovery of a new island off the nation's coast, where he believes he "found the idea of God, an understanding of what God could potentially be." The island's isolation also signifies the growing rift between him and his wife, a character actor who understands little about his scientific work. She is focused more on his clinical approach to sex and her desire for a child. For their adopted daughter and niece, Tanya, the island has a mythical significance, which alludes to her loss of parents and twin brother. In an ironically humorous class presentation, she provides a creation myth that is also a very personal story of her loneliness and pain.
Billon's faithful adaptation of Euripides' Iphigenia at Aulis was produced at SummerWorks (dir. Alan Dilworth) in 2010. The Safe Word, about a teenage boy's attempt to find love on-line, premiered at the SummerWorks festival in 2011.
In August 2012, Iceland (dir. Jain) premiered at SummerWorks, as a companion piece to Greenland. Iceland won both the Audience Choice and Best New Play awards. It was then produced by Factory Theatre in its 2012/13 season, and in theatres across the country, including Belfry Theatre in Victoria. In 2014, Iceland played to sold-out houses at the 2014 Tata LitLive Festival in Mumbai. In a compelling series of monologues by two women and one man, set against the 2008 financial debacle signalled by Iceland's meltdown, the ruthless capitalistic philosophy of a Pakistani-Canadian real estate agent who flips properties is juxtaposed with the naïve outrage of the tenant he has evicted, and with the family loyalty of an Estonian history student, appropriately named Kassandra, working as a prostitute whom he has hired. Billon exposes socially entrenched greed and racism through shocking reversals and black comedy. In a "Playwright's Note" for the published text, Billon outlines the stark production values, which strive for simplicity, whittling everything down to the essential narrative "which the actor must illuminate in the heart of each audience member."
Faroe Islands opened at the Rhubarb Festival in 2013. In a confessional monologue, a young woman activist explains how her efforts to stop the infamous whale hunt in the Faroe Islands were undermined by her friend who has brought a petition there, persuaded by a newly acquired Danish boyfriend that the hunt is environmentally sound and humane. The one-act play was published with Greenland and Iceland by Coach House Books in 2013 under the title, Fault Lines, which speaks to the precarious interrelationship of personal and political decisions and their consequences. It won a Governor General's Award in 2013.
In January 2014, Billon's adaptation of Bertolt Brecht and Margarete Steffin's Señora Carrar's Rifles as Rifles opened at the Next Stage Theatre Festival. Set in Spain during the Civil War, it focuses on a mother (played by Kate Hennig) determined to keep her sons out of the conflict.
Billon's next play, Butcher, premiered in October 2014 at Alberta Theatre Projects to critical acclaim (dir. Weyni Mengesha). It is a brutal revenge play, taking its cue from Shakespeare's Titus Andronicus. A mysterious old man in a shabby foreign military uniform and a Santa hat, with a meat hook dangling around his neck, finds his way into a Toronto police station. He is looking for his son, a lawyer. He apparently speaks no English, but a Balkan language identified as "Lavinian" (an allusion to Titus's daughter, who was raped and murdered in Shakespeare's play). A Lavinian interpreter is called in, who then reveals herself as one of the "Furies" dedicated to avenging the atrocities of a Balkan war in a horrifically "just" way. The lawyer is tricked into murdering his own father, believing he is saving the lives of the policeman's children. As in Ariel Dorfman's Death and the Maiden, revenge and justice are precariously balanced, although Billon offers some hope of absolution for the victim/avenger at the end of the play. Butcher is published by Coach House Books (2014).
Billon has produced several films, including The Exit in 2009, (dir. E. Jane Thompson). The Exit was selected for a dozen film festivals, including the Atlantic Film Festival, CFC Worldwide Short Film Festival, and the Palm Springs International Short Fest. His second short film, A Kindness, was produced in 2011 (dir. Thompson). He also writes for CBC TV (X Company) and radio (Afghanada episode 59).
In 2015, Billon won several awards, including the 2015 Canadian Screen Award for Best Adapted Screenplay (Elephant Song), the 2015 Writers Guild of Canada Screenwriting Award — Movies & Mini-Series (Elephant Song), and the 2015 Calgary Theatre Critics Award for Best New Script (Butcher).
In December 2013, Nicolas Billon married Aislinn Rose, an independent producer and theatre maker, and General Manager of The Theatre Centre. They live in Toronto.
Source: www.nicolasbillon.com
Profile by Anne Nothof, Athabasca University
Last updated 2016-09-14