Poor Super Man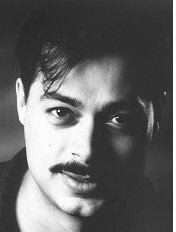 Brad Fraser
Drama in two acts by Brad Fraser, premiered at the Ensemble Theatre of Cincinnati in April 27, 1994, reversing a decision to cancel when it was deemed too controversial because of its graphic homosexual content. Poor Super Man was directed by Mark Mocahbee, with Michael J Blankenship as David, Damian Baldet as Matt, David Schaplowsky as Shannon, Annie Fitzpatrick as Kryla, and Shannon Rae Lutz as Violet, with original music by Darrin Hagen.
The European premier was produced by Traverse Theatre, Edinburgh, July 15-August 7, 1994 for the Edinburgh Festival (dir. Ian Brown). This production transferred to the Hampstead Theatre, London in September, where it surprised critics who had assumed that Canadian culture was buried in snow.
The Canadian premiere was co-produced by Workshop West Theatre and Theatre Network in Edmonton October 13-30, 1994, directed by Brad Fraser, with Kent Staines as David, Ian Leung as Matt, Christopher Peterson as Shannon, Jill Dyck as Kryla, and Kate Ryan as Violet. Design was by David Skelton, and music by Darrin Hagen.
It was performed in French at the Théâtre de Quat'Sous in 1995, with the same title, translated by Robert Vézina, directed by Fernand Rainville, with Claude Poissant, Emmanuel Bilodeau, Robert Bellefeuille, Louise Bombardier and Marie-France Lambert. The play has since been produced in theatres across Canada and the US, in Australia by the Sydney Theatre Company, and in Europe. It was the winner of the Chalmers Award, and was nominated for the Governor General's Award. Time magazine named Poor Super Man one of the top ten plays of 1994.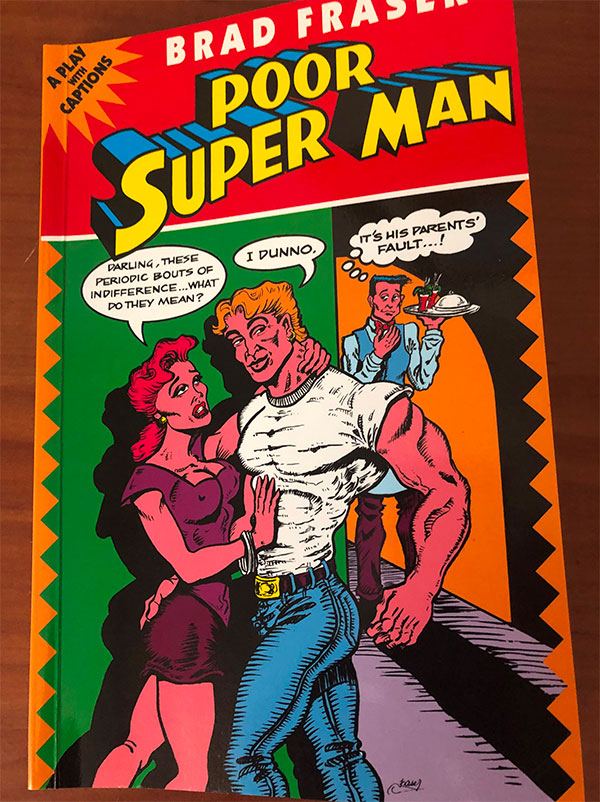 Poor Super Man. Photo courtesy of NeWest Press.
As Fraser has said many times in interviews, new types of theatre, new structures, are necessary to reach a new audience, and he set out to prove just that with this episodic work about a Gay man who has a relationship with a married man who is unsure of his sexuality. Told in the form of a comic book with captions and very short scenes with snappy and witty dialogue, the work follows the Gay artist as he deals not only with a complicated relationship which inspired his creativity, but also with his friendships: one with a man dying of AIDS who wants desperately to be a woman; and another with a strong-willed female journalist who is also searching for love in all the wrong places.
In production, the structure and style of the work can come close to subverting the emotional impact, but Fraser states that the play "is not structured like more conventional forms of theatre and cannot be acted like other plays." In his Production Notes for the published play, he specifies a distinctive style of acting and timing: "The actors must be able to access their emotional reality instantly and change that reality on command... The words of the play are never reflective and they are never inactive. They are always moving forward for some purpose involving the other characters." As Violet, the young betrayed wife, comments early in the play, "It's like we're all speaking different languages and we only understand every third or fourth word." Poor Super Man remains the most produced and popular of Fraser's works. It was published in 1995 by NeWest Press, with an Introduction and Notes by Brad Fraser.
Further Reading: Brad Fraser. All the Rage: A Partial Memoir in Two Acts and a Prologue. Doubleday Canada, 2021.
Commentary by Gaetan Charlebois and Anne Nothof.
Last updated 2021-07-30