Girard, Rémy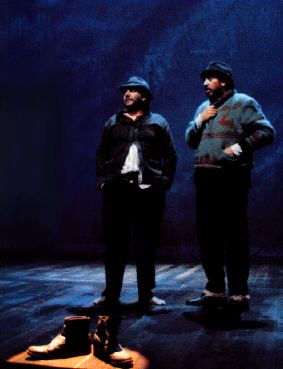 Quebec-based character actor, born in Jonquière in 1950, probably best known for his roles in Denys Arcand's film The Decline of the American Empire and the film series Les Boys. His father was a well known local politician and he studied law towards a career in politics himself. While studying, he dabbled in theatre in Quebec City until Paul Hébert told him he was an actor, not a lawyer.
He is a graduate of the Conservatoire d'art dramatique de Québec (where he performed in, among others, Genet's Le Balcon/The Balcony).
Rémy Girard has also performed lead roles in the inaugural production of the Théâtre d'Aujourd'hui's new theatre, Michel Tremblay's La Trilogie des Brassard, as well as in Les Gars at Théâtre la Licorne.
In autumn of 1996 he performed the lead in Molière's Malade Imaginaire/Imaginary Invalid, at Théâtre du Rideau Vert (he had previously played the house in, notably, La Déprime, 1983). In 1998, he played in Dominic Champagne's hugely successful version of Wajdi Mouawad's adaptation of Cervantes' Don Quichotte at Théâtre du Nouveau Monde/TNM. He appeared in the February, 2000, Allan Sandler co-production of La Cage aux folles and in January, 2002, in the TNM production of Les Joyeuses commères de Windsor/The Merry Wives of Windsor, as Falstaff.
Rémy Girard's performances are marked by great attention to character detail (particularly voice) and to an effervescent personality.
He has also had a substantive career in television and film.
He lives in Montreal with his partner, agent Line Lemieux, and their child Renaud.
Profile by Gaetan Charlebois
Last updated 2020-04-17