Rising Tide Theatre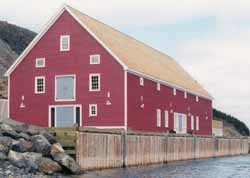 Rising Tide Theatre
Company in Trinity Newfoundland and Labrador, founded in 1978 by Donna Butt and David Ross (formerly of Mummers Troupe).
The company's mandate was to produce uniquely Canadian works, focusing on Newfoundland culture and society. Its first production was Daddy, What's a Train?, a collective creation depicting the demise of the Newfoundland narrow gauge railway. Since then the troupe has presented a wide variety of works, notably by Sharon Pollock (Blood Relations, Michael Cook (Head, Guts and Soundbone Dance), James Roy, David French (Salt-Water Moon), and Ted Johns (Judge Prowse Presiding.
The Harps of God, a play about the 1914 sealing disaster developed with Kent Stetson, received the 2001 Governor Generalís Award for English Drama. The company has also performed works like Amadeus and Children of a Lesser God.
In 1993 Rising Tide Theatre produced The New Founde Lande in the village of Trinity on the Bonavista Peninsula -- an epic historical pageant by Donna Butt and Rick Boland celebrating the provinceís rich and diverse history through a series of dramatized vignettes. The production combines the talent and creativity of local residents with that of seasoned professionals, and uses the whole community as a playing space.
In 1994 Rising Tide premiered the Summer In The Bight Theatre Festival as a companion event to The New Founde Lande, extending from mid-June until Thanksgiving, and presenting a rotating schedule of performances, including dinner theatre and revues.
Rising Tide originally performed at the St. John's Arts and Culture Centre in St. Johnís, and is now located at the Rising Tide Arts Centre on Green's Point, Trinity. It has toured productions across Canada and in Britain.
Donna Butt has been the Artistic Director since 1984 and has also performed in many of the companyís plays, including the title role of Terese in Tereseís Creed by Michael Cook.
Website: http://www.risingtidetheatre.com/
Last updated 2021-08-31