Sorgini, Linda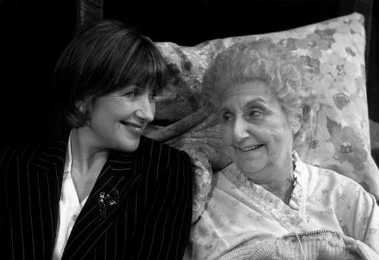 Quebec-based actor and singer, born in Sudbury Ontario in 1955. She is utterly comfortable working in French or English.
She was educated at the University of Ottawa and the National Theatre School of Canada.
She has performed at virtually all of Montreal's main stages including at the Saidye Bronfman Centre (Lips Together, Teeth Apart); Théâtre du Nouveau Monde (La Serva amarosa); Théâtre du Rideau Vert (notably in the mega-success Grace et Glorie which she performed across the country in 1999 in French and in English alongside Viola Léger - they shared a Masque Award for their work). She also played in the 1999 revival of Michel Tremblay's Le vraie monde? at Théâtre du Rideau Vert. For Compagnie Jean-Duceppe, she performed in Fleurs d'acier/Steel Magnolias; for Théâtre d'Aujourd'hui the premiere of Normand Chaurette's Je vous écris du Caire; and for Centaur Theatre Guys and Dolls. In 1999, she performed in Feydeau's Monsieur Chasse (Just for Laughs, July, 1999, directed by Denise Filiatrault). In 2001, she was in the Rideau Vert production of Venecia.
More recently, she has played in Femme cherche homme, désespérément (Théâtre Beaumont St-Michel, 2012); Le Dindon (TNM, 2012); and Le Déni (Compagnie Jean-Duceppe 2009).
Linda Sorgini has also performed in film and television, including the popular Radio-Canada series L'Auberge du chien noir (2002-2013).
In French or English, her performances are marked by a vivaciousness and freshness of interpretation that belies the length of her career.
Profile by Gaetan Charlebois. Additional information provided by Neil Kelly.
Last updated 2013-04-11