Jacques, Yves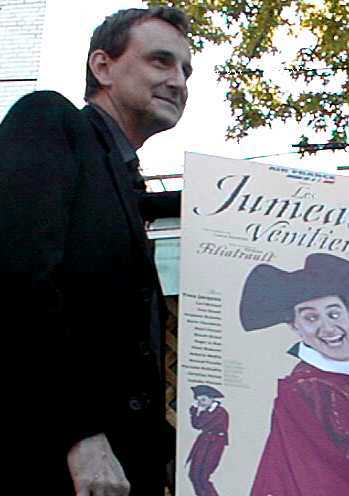 Yves Jacques
Quebec-based actor born May 10, 1956. He studied theatre at the Cégep de Saint-Hyacinthe.
Yves Jacques has performed on stages across the province and in many other countries. Among the companies for which he has worked are the Théâtre du Trident, Théâtre du Bois de Coulonge, Ligue Nationale d'Improvisation, Compagnie Jean-Duceppe and Théâtre Juste Pour Rire.
In 1987, Jacques appeared in the world premiere of Michel Marc Bouchard's Les Feluettes (Théâtre Petit à Petit). In 1991, he played the role of David in Brad Fraser's controversial Les Restes humains non-identifiés et la véritable nature de l'amour (dir. and trans. André Brassard) at Théâtre de Quat'Sous.
He moved to Paris in 1992, where he worked frequently with director Jérôme Savary.
In summer, 2000, he played both title roles in the hugely successful Théâtre Juste Pour Rire production of Goldoni's Les jumeaux vénitiens/The Venetian Twins. Between 2001 and 2007, he toured the world in two shows by Robert Lepage: Far Side of the Moon (La Face cachée de la lune), and Le Projet Andersen, in which he played all the roles. In 2014, he returned to Paris to perform in Les Fausses Confidences by Marivaux (dir. Luc Bondy) at the Odéon; and in Ivanov?by Anton Chekhov (dir. Bondy, 2015). In 2018, he acted in Je suis mixte by Mathieu Quesnel (dir. Quesnel) at Théâtre La Licorne, Montréal.
Since 1990, Yves Jacques has also performed extensively in film (notably in Le déclin de l'empire américain and Jésus de Montréal) and on television.
Jacques was named Chevalier de l'Ordre des Arts et des Lettres (France) in 2001; and was appointed an Officer of the Order of Canada in 2009.
Profile by Gaetan Charlebois and Anne Nothof.
Last updated 2021-02-05