Gillard-Bentley, Paddy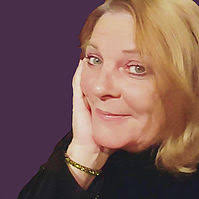 Paddy Gillard-Bentley. Photo by Darlene Spencer.
Paddy Gillard-Bentley is a playwright, director and producer, based in Kitchener, Ontario. She is the founding Artistic Director of Flush Ink Productions (2016), and past president of the International Centre for Women Playwrights (ICWP). Nearly 100 productions of her plays have been performed in England, Ireland, Australia, USA and Canada. Selected titles include; Shaking the Dew from the Lilies (Kitchener, Denver, Grand Forks, North Hollywood, Waterloo), Accidental Fish, Quantum Entanglement (Kitchener, Calgary, Philadelphia), Sanguine Sonata (Kitchener, North Carolina, Cork), Bingo Wings (Neepawa, Gimli, The Pas – Manitoba). Her play, A Rose Upon the Blood, toured Ireland in 2016 as part of the Easter Rising Centenary (Bray (Wicklow), Cavan, Cork City, and Bere Island (County Cork). It was also produced in Kitchener, Toronto and Waterloo. Her work has been published by Meriwether, Routledge and I.C.W.P.
In 2006, she established Flush Ink's signature site-specific event "Asphalt Jungle Shorts," performed in the streets of downtown Kitchener. In 2007, she established "She Speaks: Women's work, Women's Words," a reading of women's plays each March to coincide with International Women's Day to celebrate the under-represented voice of women in theatre. In 2008, she created "UnHinged Festival of Site-Specific Theatre" -- a fringe-style event for other theatre groups. There is a fee for participating, and the theatre companies keeps 100% of their box office receipts. This Festival was changed in 2011 to "Unhinged Festival of Disturbing Theatre," which stages provocative, rarely-produced plays. Gillard-Bentley also founded "Urban Scrawlers," a playwright's development collective in 2010.
She has directed hundreds of plays and produced nearly fifty events for Flush Ink Productions. She has also worked with MT Space, KW Youth Theatre, Lost & Found Theatre and Neruda Arts.
Website: www.skydragon.com/plays.html
Last updated 2020-06-30