Gratz, Bonnie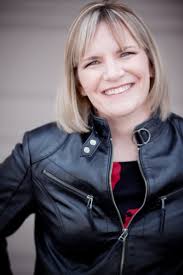 Bonnie Gratz. Photo by Destee Klyne.
Director, playwright, actor, and educator, Bonnie Gratz has been Artistic Director/founder of two Canadian theatre companies: Centre Stage Theatre (TYA) in Calgary from 2002-2010; and New Vintage Theatre Company in Kelowna from 2012-present. She is a champion of theatre education, and has been dedicated to encouraging new performers and playwrights for over thirty years since graduating from the University of Calgary in 1991.
Centre Stage Theatre Company performed at regional theatres and schools throughout Alberta and British Columbia, and had a regular show at Stage West for Kids in Calgary for three years.
Bonnie Gratz has directed over a hundred plays that have been performed throughout Alberta and British Columbia; and has worked as an artist in residence at many schools in both provinces. She has also worked at Calgary Opera as their Education and Outreach coordinator, heading up their Let's Create An Opera residency program for one year.
Her TYA plays include: My Favourite Fairy Tales, A 1970's Cinderella, A Most Dangerous Game, Mixed Up (with Ellen Chorley, Telly James, and John Knight, directed by Adrienne Smook), Once Upon A Christmas and Yeti!.
Other notable plays include: The Venus of Milo, Alberta (with MJ Uszy), A Kelowna Christmas Carol, In One Night, The Last Song of the Christmas Belles, and I'll Stop The World For You.
Bonnie Gratz was also the showrunner and director of the Shaw TV parody soap opera As The Sun Burns, which aired weekly for five years. She started the Playwright's Hothouse play development program in Kelowna, which has yielded over thirty-five new plays/screenplays.
She is the winner of an Okanagan Arts Award, Kelowna Chamber of Commerce Award (Best Arts Organization), and Bronze Best of Kelowna Award-Theatre Company.
She is a member of the Playwright's Guild of Canada and Literary Managers and Dramaturgs of the Americas.
Last updated 2021-07-05