Ground Zero Productions
Popular Theatre company, based in Edmonton Alberta, which uses theatre to effect social change. It produces plays for Labour Movements, and community organizations committed to social justice. Founded by Don Bouzek in Toronto in 1988, the company works with organized labour in Canada, touring shows everywhere from small union halls to large national conventions. However, as Alan Filewod has demonstrated, "Ground Zero has been able to avoid becoming ideologically entrenched or involved in perpetuating essentialist communities and identities. Instead, Ground Zero predominantly tells and performs carefully historicized 'true' stories to counter dominant fictions, while leaving space to scrutinize and subvert the power-produced dynamics of performance" (Mundel, Theatre Research in Canada 24.1-2 [2003]). The Company uses a variety of styles and techniques to facilitate each venture, from video to theatre, from contemporary performance to Boal.
Productions include: Where's the Care (1990), which explores the concerns of Ontario health care workers; Fair is Fair (1992-93), which focuses on employment equity; The Psyche Project (1998), which challenges traditional medicine for cancer patients: Hijos del Maiz /People of the Corn (1992-95), which tells the story of three Salvadoran refugees who encounter the systemic racism of Canada's immigration policy, using as a departure point the origins of a Canadian cup of coffee in a colonized and exploited country.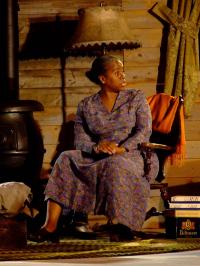 Pat Darbasie in Ribbon
More recently, Ground Zero Productions has initiated works that reflect the social reality of culturally diverse communities in Alberta. With the support of the Black Pioneer Descendents, Ribbon by Pat Darbasie portrays the history of the Black Pioneers in the Athabasca region of Alberta in the early twentieth century through the struggle of a single mother to establish a home near Athabasca. Darbasie performed the roles of the ghost of the pioneer mother, and her great-granddaughter Paula, who comes to her ancestral home to clean out the garbage, and discovers a wealth of memories and history. It premiered at the University of Alberta Studio Theatre in 2005, and toured to the Nancy Appleby Theatre, Athabasca, and Amber Valley community hall in 2009.
GWG: Piece by Piece (2007) is a "video ballad" telling the stories of struggle and cultural survival of the immigrant women workers at Edmonton's GWG factory, which operated from 1911 until 2004. Based on the research of historian Catherine C. Cole, and expressed through the words and music of singer/songwriter Maria Dunn, it uses filmed interviews with the women who had worked there.
In March 2011, Ground Zero Productions premiered Pat Darbasie's West Indian Diary at the Stanley A. Milner Library in Edmonton (directed by Philip Akin, artistic director of Toronto's Obsidian Theatre Company). It is based on the research of University of Alberta education professor, Jennifer Kelly, and Darbasie's own family's relocation from Trinidad, and enacts the stories of Caribbean immigrants to the Edmonton area in the 1960s and 70s, and the ways in which they established a community through a common love of cricket.
Don Bouzek is Artistic Director. He was awarded an Alberta Centennial Medal for his work in the arts, and has won a number of national awards.
Sources: Alan Filewod, "Coalitions of Resistance: Ground Zero's Community Mobilization." Performing Democracy: International Perspectives on Urban Community-Based Performance. Ed. Susan Chandler Haedicke and Tobin Nellhaus. Ann Arbor: U of Michigan P, 2001. 89-103.
Ingred Mundel. "Radical Storytelling: Performing Processes in Canadian Popular Theatre," Theatre Research in Canada 24.1-2 (2003).
Website: www.gzpedmonton.org
Profile by Anne Nothof, Athabasca University
Last updated 2012-02-16