Rubes, Jan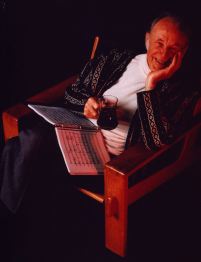 Jan Rubes
Actor/singer born in Czechoslovakia in June 1920, died in Toronto Ontario in June 2009. He made his opera debut in 1940 in Prague, and emigrated to Canada in 1948. He performed on television, in film and theatre in Canada and abroad, and was a founding member of the Canadian Opera Company, performing with the Company more that 1000 times between 1949 and 1989, including Mephisto in Faust, Bluebeard in Bluebeard's Castle, and Daland in The Flying Dutchman. As bass lead, he performed in such musicals as South Pacific, Sound of Music, Man of La Mancha, The King and I and Hans Christian Andersen.
As an actor, he performed on the stage in I'll Be Back Before Midnight and Twelve Dreams, on TV, and in film -- most memorably in The Witness (1985) as an Amish farmer.
From 1953 to 1963, he hosted the CBC show, Songs of My People.
Jan Rubes was a consummate theatre professional, and had a crackling wit that was evident in much of his work. His voice was powerful and rich. He was awarded the Queen's Jubilee Medal in 1978, the Canadian Centennial Medal in 1967, and the Earl Grey Award for lifetime achievement in television in 1991.
He was married to actor/director Susan Douglas Rubes, with whom he had three sons.
Source: www.cbc.ca/arts
Last updated 2010-06-30