Johnstone, Keith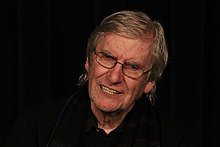 Keith Johnstone
Highly influential director and educator, born in Devon, England February 21, 1933; died March 11, 2023 at the age of ninety in Calgary, Alberta.
Keith Johnstone performed with the Royal Court Theatre in London and taught at the Royal Academy of Dramatic Art, where he formed the Theatre Machine troupe with four actors to explore the possibilities of improvisational performance for playwriting and acting. He came to Canada in 1972 to teach acting at the University of Calgary.
Although he is the author of several plays, he is best known for his writings and studies of improvisation and his creation of Theatresports, now an international practice of performance/improv.
Johnstone challenged what he considered the "theatre of taxidermy" and restored a sense of playfulness and spontaneity to performance. Through a series of games which he devised, "actors could discover freedom from stage nerves, a respect for the contribution of their fellow performers, a means of approaching text analysis and characterization and, above all, a joy in performing" (Reddick). He invented many of the improv games the Theatresports chain uses, notably Micetro Impro (pronounced as "Maestro") with ten to fourteen performers of mixed abilities competing in response to audience suggestions; The Life Game; and Gorilla Theatre.
In 1977, Johnstone founded the Loose Moose Theatre with Mel Tonkin, which performs theatresports and youth theatre, and has held workshops in the United States, Europe, and Japan. He also founded the International Theatresports Institute.
His books include Impro:Improvisation and the Theatre (1979) and Impro for Storytellers (1999). He also wrote the Theatresports newsletter, and continued to mentor and teach after his retirement from the University of Calgary.
Website: www.keithjohnstone.com.
Source: Grant Reddick. "Keith Johnstone," Theatre 100. Calgary: Alberta Playwrights Network, 2006.
Last updated 2023-03-14