MacKenzieRo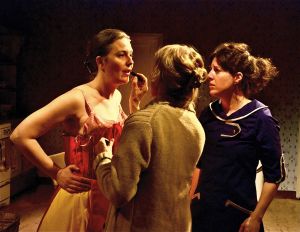 The New Electric Ballroom.
(L-R): Sarah Dodd, Rosemary Dunsmore, and Cathy Murphy. Photographer: Matthew Marigold
Canadian Irish Repertory Theatre, based in Toronto Ontario, founded by Cathy Murphy and Autumn Smith in 2004, and ran for nine years.
It was dedicated to exploring the shared heritage between Ireland and Canada, developing new works which give voice to the Irish in Canada , and producing Canadian interpretations of contemporary Irish and British plays which are provocative, intimate, and demanding.
The first production was Conor McPherson's The Weir (2004), staged in Rowers Pub during the Toronto Fringe Festival, which won a "Best of the Fringe" award. In 2005, the Company produced Alan Bennett's Talking Heads to critical acclaim at the Toronto Fringe. For the 2006 SummerWorks, it staged Clare Dowling's The Man from Marlboro, and for the Fringe McPherson's The Good Thief in Rowers Pub.
In 2009, Teacht i de'Tir: Voices from Ireland Park, a moving new work about Irish immigration during the famine years in the 1840s was performed in Toronto's Ireland Park. The Company also produced four works by controversial contemporary Irish playwright, Enda Walsh: Disco Pigs (2007), The Walworth Farce (2009), bedbound (2009), and The New Electric Ballroom (Tarragon Theatre Extra Space, 2010), the story of three sisters in an isolated Irish fishing village.
MacKenzieRo's last play, The Rake's Progress: Do You Know Where Tom Rakewell Is? - inspired by the 17th century engravings of Hogarth and the music of Stravinsky - was workshopped at the Tarragon Theatre in 2010, and with the Druid Theatre in Galway.
MacKenzieRo also engaged in outreach and education, exploring issues of immigration, and the diversity of cultural communities in Canada.
Last updated 2021-04-08