Maxwell, Roberta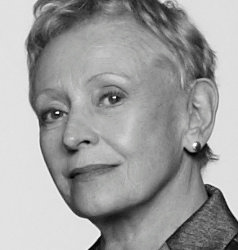 Roberta Maxwell
Actor born in Toronto, Ontario in 1942. She began studying for the stage at the age of 12, and became the youngest actress apprentice at the Stratford Festival in 1958. At Stratford she appeared as Ursula in Much Ado About Nothing, Lady Anne in Richard III, Olivia in Twelfth Night, and Anne in The Merry Wives of Windsor. In 1982, she starred as Rosalind in the Stratford production of As You Like It, and in 2011, she played the Duchess of York in Richard III. In respect to her portrait of Lady Macbeth, critic Gina Mallet described her as a 'watercolorist of an actress' who 'creates an aura around herself, gaining her effects obliquely and often enigmatically' (Toronto Star 9 June 1983).
She performed in repertory theatre in England for three years, making her West End debut in A Majority of One. She debuted on Broadway in The Prime of Miss Jean Brodie in 1968; then performed in five plays with the Tyrone Guthrie Theatre in Minneapolis, Minnesota. In 1974 she returned to Broadway to perform in Equus, with Anthony Hopkins. For her off-Broadway performance in Ashes she won an Obie Award in 1977. More recently, in 2016, she played the frail grandmother in Women of a Certain Age by Richard Nelson, reacting acerbically to the election of Donald Trump.
She has had a solid television and film career, notably appearing opposite Susan Sarandon in Dead Man Walking (1995), and as the mother in Brokeback Mountain (2005).
Last updated 2018-10-14