McPherson Playhouse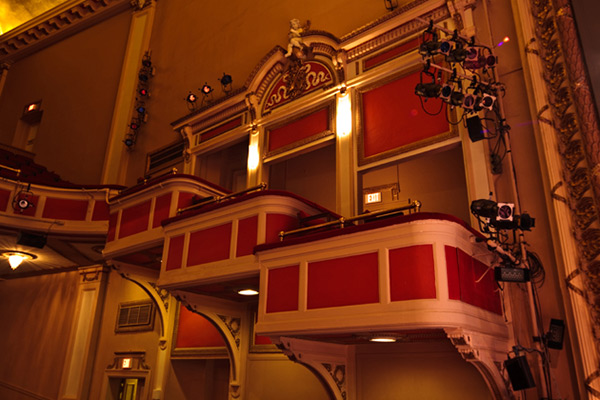 McPherson boxes
The McPherson Playhouse first opened in 1914 in Victoria, British Columbia as the Pantages Theatre, one of a series of vaudeville houses constructed across Canada in the early twentieth century. It was re-named after Thomas Shanks McPherson, who bequeathed the theatre and funding for its reconstruction to the people of Victoria. The award-winning project was completed in 1965 and included a modern lobby addition, technical improvements, and the refurbishing of the ornate Neo-Baroque style auditorium.
The McPherson Playhouse is a proscenium theatre, with a single balcony plus two side boxes, and conventional seating. The seating capacity is 818, including four wheelchair positions. Forty-one seats are removed for a full orchestra pit.
From 1971 to 1988, the McPherson Playhouse provided a home for the Bastion Theatre. Currently is operates as a licensee/rental venue, under the administration of the Royal and McPherson Theatres Society. A variety of professional, community and amateur events and concerts are presented at "The Mac" year-round.
Web site: www.rmts.bc.ca
Information provided by Lloyd Fitzsimonds
Last updated 2020-01-20