Mermaid Theatre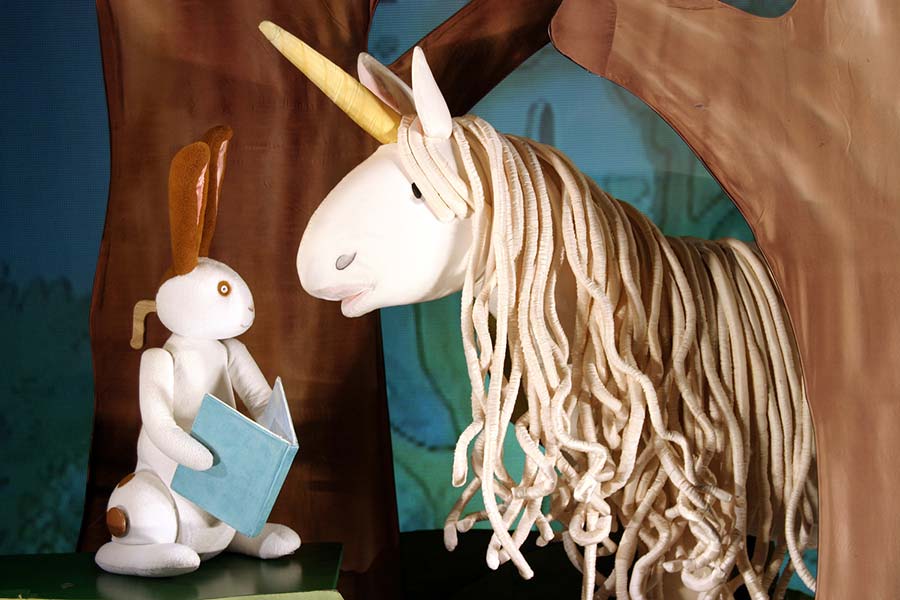 Guess How Much I Love You & I Love My Little Storybook. Photography by Margo Ellen Gessor.
Founded in 1972 at Acadia University, Wolfville, Nova Scotia by Acadia's director of drama, Evelyn Gabary, Artistic Director, Tom Miller, and administrator, Sara Lee Lewis, Mermaid Theatre's original mandate was to tour plays for young audiences in rural Nova Scotia. Using Miller's rod puppets, and masked actors and dancers, the company performed plays based on local history and adaptations of legends of the Mi'kmaq. The theatre extended its tours to a national, and then an international audience on four continents, playing to more than six million young people in Japan, Mexico, Australia, England, Ireland, Holland, Scotland, Wales, Hong Kong, Macao, Singapore, Taiwan and Vietnam. The company now performs for 200,000 spectators annually.
Since 1987 the theatre's headquarters and performance facility have been located in Windsor, Nova Scotia. With a budget in excess of $1.2 million, it is one of Nova Scotia's major cultural employers and the area's chief exporter of theatre. In addition to its extensive national and international touring circuits, Mermaid's Institute of Puppetry Arts and vital Youth theatre programs provide personal and professional opportunities not otherwise available in the Atlantic Region.
In 1982 Graham Whitehead replaced Tom Miller as Artistic Director. His productions included Sam Slick the Clock Maker (1983), with script by Paul Ledoux based on Thomas Chandler Haliburton's novel, and music by A. Macdonald.
Mermaid's current Artistic Director, Jim Morrow, has created puppets for stage, film, television, parks and industry. He has directed most of the company's national and international touring productions. In recognition of his contribution to Nova Scotia culture, he was awarded the prestigious Portia White prize in the Spring of 2005.
Chistopher Heide initiated Mermaid Youtheatre in 1990, bringing teenage creativity to the stage through the use of theatre techniques. Working with partners such as the local Community Health Board, the Youtheatre has a close relationship with other youth drama programs in Nova Scotia. It has also toured at home and abroad.
Mermaid's choice of material is based on the belief that young people can benefit substantially, both in their emotional and aesthetic development, from early exposure to literature, the arts, and the power of imagination. The theatre draws its scripts primarily from children¹s literature with universal appeal. These sources are either contemporary (Sam McBratney, Leo Lionni, Berkeley Breathed, Howard Norman, Eric Carle, Sheree Fitch, Margaret Atwood, for example), classics from an earlier time (such as Jonathan Swift, Munro Leaf and E.B. White), or traditional tales. Recent adaptations include Eric Carle's The Very Hungry Caterpillar, Howard Norman's Noah and the Woolly Mammoth, and Berkeley Breathed's Goodnight Opus, and It's Okay to be Different by Todd Parker.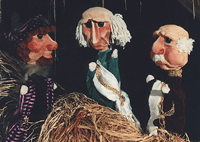 1989: "Under One Roof". Photo by DNS Photographics.
Mermaid is best known for its unusual mix of striking visual images, evocative original music, scripts with moderately demanding language, and puppets and staging which draw young spectators into a world of fantasy and wonder. The company¹s creative ambition is to produce work which is good theatre - entertaining, informative and stimulating to all the senses. Another important goal is to encourage literacy and generate enthusiasm for reading.
The promotion of Canadian Maritime talent is of prime importance to the company. Mermaid Theatre's touring productions serve as a continuous showcase for the Atlantic Region's performing artists, writers, directors, designers and technicians. The company has a policy of providing ongoing royalties to the creators of its remounted productions, so that Mermaid's support of its artists is among the most generous in the Atlantic Region.
The Mermaid Theatre is one of North America's most respected theatres for the young, and has won widespread recognition for its important ambassadorial role. In addition to the Canada Export Awards, Mermaid Theatre has been similarly recognized by the Province of Nova Scotia (2001), and has merited the designation of Best Performing Group from the Canadian Arts Presenting Association.
Web site: www.mermaidtheatre.ns.ca
Additional reading: Denyse Lynde, "Wolfville's Mermaid Theatre; the First Fifteen Years," Theatre History in Canada 9 (1988).
Profile by Sara Lee Lewis, Co-founder and past Managing Director.
Last updated 2021-05-08