Millard, Kathy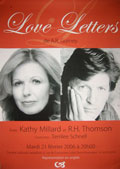 Actor, producer, daughter of Sandor Kertesz, the Pro Cultura Hungarica Award winner who founded the Hungarian Art Theatre of Toronto (mayor's award of merit) and ran it for thirty years in Canada after a successful career as an actor-director in his native Hungary.
Kathy Millard has B.A. and B.Ed degrees from the University of Toronto. As an actor, she has performed across Canada and in Europe, including roles in Love Letters (Teatro Issauro Martinez, Mexico); Madeleine (Magnus Theatre, dir. Tibor Feheregyhazi; Dusa, Fish, Stas and Vi (Centre Stage, London); Hey Rube! (Toronto Workshop Productions, dir. George Luscombe; and Six Characters in Search of an Author (University of Toronto, dir. Maurice Evans).
She co-starred in Love Letters with RH Thomson, which played at the Canadian Cultural Centre in Paris, France in 2006, and in Athens, Greece.
She has also acted in film radio, and television.
Last updated 2021-05-17