Mixed Company Theatre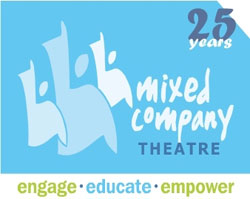 Social activist theatre company, producing innovative, socially relevant drama as a tool for positive change, based in Toronto Ontario. Founded as an artist-run collective in 1983, Mixed Company today uses Forum Theatre and interactive arts to educate, engage and empower audiences in schools, communities and workplaces.
Recognized by UNESCO as a tool for social change, Forum theatre bridges theatre professionals and the community. In 1991 the late Nobel Peace Prize Nominee, Augusto Boal, activist and founder of Theatre of the Oppressed, appointed Mixed Company as the first official Forum Theatre Centre in Canada. Awards and citations for civic engagement and artistic excellence include the Mayor's Award for the Arts, a Safe City Award, The Pauline Julienne Award, Dora Mavor Moore Award nominations, Community Arts Ontario Best Practices Award and The Montreal Gazette's Best New Play Award.
Led by Simon Malbogat, co-founder and Artistic Director, a broad range of established and diverse theatre professionals are engaged to create touring productions and community animations. Mixed Company Theatre develops, workshops and presents original Forum theatre focusing on educational and community issues for local, regional, national and international audiences. Among the organizations Mixed Company has partnered with are: Amnesty International, National Crime Prevention Centre, Canadian Red Cross and the Banff Centre for the Arts.
More than 100 Forum theatre productions have been developed for people of all ages and backgrounds, spotlighting issues of diversity, family relationships, peer pressure, sexual and mental health (including STI and HIV under the City of Toronto's Public Health), racism, homelessness, leadership, drug and alcohol abuse, and violence. Mixed Company has toured internationally, facilitating Forum theatre projects from Helsinki to Kiev, Istanbul to Rio de Janeiro.
Some of the highlights of Mixed Company Theatre's work include:
Showdown (Anti-Bullying Play) which has been performed for over 100,000 viewers internationally, and for which Mixed Company received the City of Toronto Mayor's Community Safety Award in December 2008, in recognition for this work in helping to break the cycle of violence in the Greater Toronto Area.
Cobblestone Adult and Youth Troupes offer a forum and voice for people who have experienced homelessness and street life. Since 1990, The Cobblestone Theatre Project has garnered intense media attention, transforming participants and company members. A mini-performance circuit for the Cobblestone (Adult and Youth) Theatre Project tours across Ontario.
In its earliest years, Mixed Company premiered original Canadian plays, including Joe Beef by David Fennario, Life on the Line by Steven Bush and Allen Booth, and Dora-nominated Bad Apples by Michael Glassbourg. Now all of Mixed Company's new collectively-created Forum theatre works remain 100 percent Canadian.
Website: www.mixedcompanytheatre.com
Last updated 2009-12-02