Nasty Shadows Theatre Company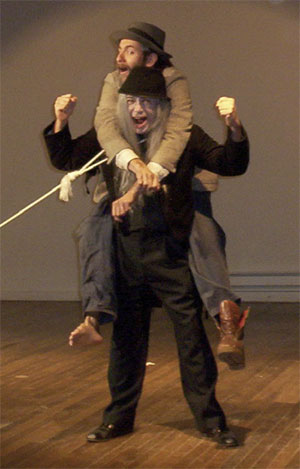 Waiting for Godot, with Scott Shannon as Estragon and Andrew Scott Jones as Lucky.
Theatre company founded in 1999 by University of New Brunswick theatre student Scott Shannon and faculty member Robert Moore, and based in Fredericton New Brunswick. It works with small groups of actors and technicians from Fredericton and/or Saint John to provide audiences in both cities with thought-provoking, intimate, and immediate theatrical creations with a focus on stripped down/minimalistic productions (website).
In 2013, Nasty Shadows took a year hiatus in order to rethink its mandate, and was back in 2014 with a slightly updated mandate geared towards developing more new work.
Past productions include works by Samuel Beckett and Harold Pinter, and several monologues by Daniel MacIvor in which Scott Shannon undertook the solo role: Wild Abandon: the Study of Steve (2007), This is a Play (2007 and 2019), House (2008 and 2018), Here Lies Henry (2010), and In On It (2017). Shannon directed MacIvor's Marion Bridge in 2009.
Nasty Shadows has also produced three plays by the founders: Rougher Magic by Robert Moore (2000); and The Table Experiments and Isolation Jones (2020) by Scott Shannon. In 2012 it presented The Art of Success by British playwright Nick Dear (2012), which enacts a debauched night in the life of the 18th century satiric painter, William Hogarth, and which, according to the local critic, may have offended public sensibilities with its language and nudity. Undeterred, Nasty Shadows continues to develop challenging works, including Brief Interviews with Hideous Men, based on the short stories of American author, David Foster Wallace.
Website: www.nastyshadows.com
Last updated 2021-06-22