Nicholls, Liz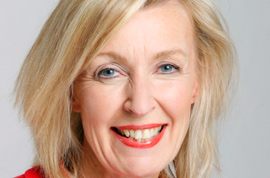 Liz Nicholls
Theatre critic for the Edmonton Journal for thirty-four years, based in Edmonton Alberta. She studied English at the University of Alberta, and pursued doctoral studies in London, England, specializing in the architecture of Shakespearean playhouses and the staging of the late Shakespeare romances. Her first Journal assignment was covering the second annual Edmonton International Fringe Festival in 1983.
Her previews and reviews are articulate, insightful, and witty, and have contributed significantly to an informed reception of theatre in Edmonton. She has supported the careers of a generation of theatre artists through interviews and articles, and in doing so, has provided a cumulative and comprehensive history of theatre in the city and the province.
In 2011, she received Edmonton's "Salute to Excellence Citation," given to citizens for distinguished service and inspirational leadership.
On June 24, 2013 the Sterling Awards committee honoured Nicholls for Outstanding Media Coverage of the Theatre, citing "her dedication to and love of the art [that] has filled up [theatre] houses for decades."
Liz Nicholls left the Edmonton Journal in December 2017, taking a voluntary buy-out as a consequence of the drastic reduction of arts coverage by Postmedia. However, she continues independent coverage of theatre in Edmonton on her website https:12night.ca, and on Facebook.
Profile by Anne Nothof, Athabasca University
Last updated 2017-01-15