Power, Kevin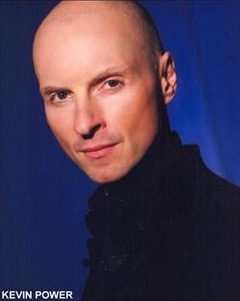 Composer, singer, actor, Kevin Power was born in Halifax Nova Scotia. He is a graduate of the University of Saskatchewan's Department of Music (1985), and holds a degree in Music Theory/Composition/Performance. He is a past -recipient of the Murray Adaskin Composition Scholarship and three Saskatchewan Arts Board Grants. Power is a published composer and is co-author of the stage play Double Blind which was chosen for the Saskatchewan Playwright's Festival.
Stage credits include M. André, The Phantom of the Opera (Canadian Cast); Tiny Tom, Urinetown: the Musical (Original Canadian Cast); Thenardier, Les Miserables; Fagin, Oliver; Rooster, Annie; Cogsworth, Disney's Beauty & the Beast, and many more.
In concert, Kevin Power has appeared with the Kitchener-Waterloo Symphony, and in the Canadian tour of his self-produced show BroadwayCabaret/BroadwayJazz. He has originated several roles including "Wind" in the newly restored Canadian Operetta Leo, The Royal Cadet; Pete in the premier of Boiler Room Suite (Canada/U.K.); Billy/Bearkeeper in the Banff Centre for the Arts-Welsh National Opera co-production of Tornrak.
Film and television principal role credits include "Tom" in Why I Wore Lipstick to my Mastectomy (Lifetime Network), working opposite Patti Labelle; Gregor in Horsemen (2009), working opposite Dennis Quaid; the Geneco Spokesman in the Lionsgate Feature Film Repo, the Genetic Opera (Lionsgate Films); Willam de Vos in CBC's The Border; "Clarence Trump" in Committed (Lifetime Network); and featured roles in Red (SyFy Network) and Suits(HBO). Power will appear in another leading role in the Canadian/European/US co-production of Ghostland in April 2018.
He has received critical acclaim as a singer/actor from the Times of London to the Globe and Mail and Opera Canada.
Kevin is creative producer and host of SaskScapes, the first series of podcasts on iTunes featuring stories of arts, culture and heritage in Saskatchewan. SaskScapes was recently featured on CBC's national radio program Podcast Playlist, and has a global following.
Website: www.kevinpower.net
Last updated 2019-07-15